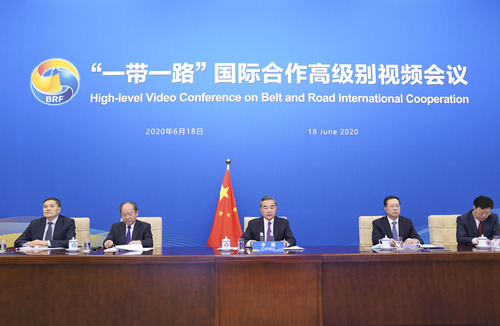 Chinese State Councilor and Foreign Minister Wang Yi presides over a high-level video conference on Belt and Road international cooperation in Beijing, capital of China, June 18, 2020. (Xinhua/Yin Bogu)
38 countries are in Sub-Saharan Africa
Angola, Benin, Burundi, Cabo Verde, Cameroon, Chad, Comoros, Congo, Rep., Côte d'Ivoire, Equatorial Guinea, Ethiopia, Gabon, Gambia, Ghana, Guinea, Kenya, Lesotho, Liberia, Madagascar, Mali, Mauritania, Mozambique, Namibia, Niger, Nigeria, Rwanda, Senegal, Seychelles, Sierra Leone, Somalia, South Africa, South Sudan, Sudan, Tanzania, Togo, Uganda, Zambia, Zimbabwe
34 BRI countries are in Europe & Central Asia (including 18 countries of the European Union (EU) that are part of the BRI)
Albania, Armenia, Austria, Azerbaijan, Belarus, Bosnia and Herzegovina, Bulgaria, Croatia, Cyprus, Czech Republic, Estonia, Georgia, Greece, Hungary, Italy, Kazakhstan, Kyrgyz Republic, Latvia, Lithuania, Luxembourg, Moldova, Montenegro, North Macedonia, Poland, Portugal, Romania, Russian Federation, Serbia, Slovak Republic, Slovenia, Tajikistan, Turkey, Ukraine, Uzbekistan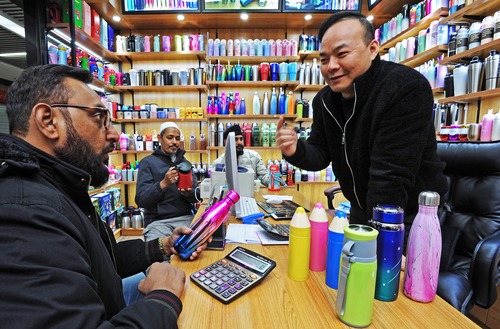 A merchant introduces vacuum bottles to an Indian businessman at the international shopping mall in Yiwu, a city specialized in small goods trade in east China's Zhejiang Province, Dec. 3, 2019. East China's Zhejiang Province saw robust growth in its foreign trade with countries and regions along the Belt and Road in 2019, local authorities said. (Xinhua/Tan Jin)
25 BRI countries are in East Asia & pacific
Brunei Darussalam, Cambodia, China, Cook Islands, Fiji, Indonesia, Kiribati, South Korea, Lao PDR, Malaysia, Micronesia, Fed. Sts., Mongolia, Myanmar, New Zealand, Niue, Papua New Guinea, Philippines, Samoa, Singapore, Solomon Islands, Thailand, Timor-Leste, Tonga, Vanuatu, Vietnam
17 BRI countries in Middle East & North Africa
Algeria, Bahrain, Djibouti, Egypt, Iran, Iraq, Kuwait, Lebanon, Libya, Malta, Morocco, Oman, Qatar, Saudi Arabia, Tunisia, United Arab Emirates, Yemen
18 BRI countries are in Latin America & Caribbean
Antigua and Barbuda, Barbados, Bolivia, Chile, Costa Rica, Cuba, Dominica, Ecuador, El Salvador, Grenada, Guyana, Jamaica, Panama, Peru, Suriname, Trinidad and Tobago, Uruguay, Venezuela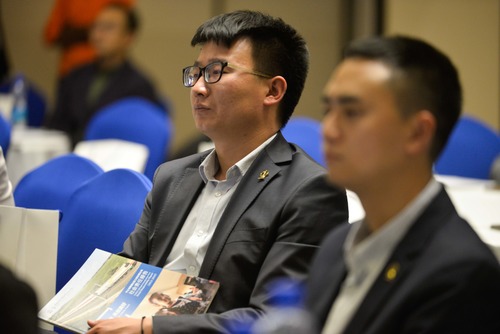 Participants attend a book launch ceremony in Addis Ababa, capital of Ethiopia, Dec. 23, 2019. Boosting cross-cultural cooperation among countries participating in the China-proposed Belt and Road Initiative (BRI) is a crucial imperative to achieve the common goal under the initiative, a newly published book argued on Monday. (Xinhua/Michael Tewelde)
6 countries are in South East Asia
Afghanistan, Bangladesh, Maldives, Nepal, Pakistan, Sri Lanka
For some countries that are listed as having signed an MoU for the BRI, the availability of independent information is contradictory. For example, the seven countries of Austria, Benin, Comoros, Congo D.R., Dominica, Niger and Russian Federation have not published a confirmation of signing a full MoU or even denied it. These countries are listed as "null" in the following map of countries of the Belt and Road Initiative.
About Belt and Road Initiative (BRI)
BRI is short for China-proposed Belt and Road Initiative. "B" is the first letter of Belt, referring to Silk Road Economic Belt, "R" is the first letter of Road, referring to the 21st Century Maritime Silk Road; "I" is the first letter of Initiative.
The BRI comprises a Silk Road Economic Belt – a trans-continental passage that links China with south east Asia, south Asia, Central Asia, Russia and Europe by land – and a 21st century Maritime Silk Road, a sea route connecting China's coastal regions with south east and south Asia, the South Pacific, the Middle East and Eastern Africa, all the way to Europe.
BRI is an inspiration from the concept of the Silk Road established during the Han Dynasty 2,000 years ago – an ancient network of trade routes that connected China to the Mediterranean via Eurasia for centuries.The aim of BRI is to connect Asia with Africa and Europe via land and maritime networks along six corridors.It is a massive new trade corridor project, which has also been referred to as the New Silk Road.