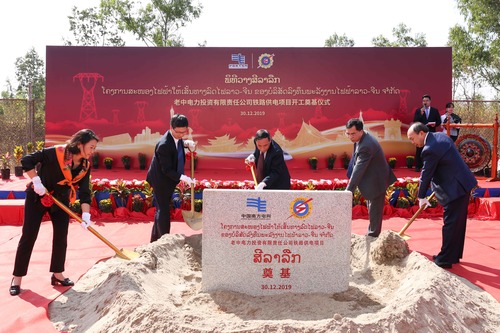 Representatives from China and Laos attend a groundbreaking ceremony for the power supply project for the China-Laos Railway in Vientiane, capital of Laos, Dec. 30, 2019. (Photo by Zhang Jianhua/Xinhua)

About the Belt and Road Initiative
The Belt and Road Initiative is the abbreviation of the Silk Road Economic Belt and the twenty-first Century Maritime Silk Road (abbreviated BRI).BRI is a development initiative that focuses on connectivity and cooperation among countries. It consists of two main components, the land-based "Silk Road Economic Belt" and oceangoing "21st-century Maritime Silk Road ".
The Belt and Road Initiative aims to become a transnational network to facilitate trade and investment and promote common development among all countries involved. At the same time, the Belt and Road Initiative aims to ensure all parties gain real benefits.
Share benefits have some meanings as follows:
Shared benefits mean that we take into consideration the interests and concerns of partners of cooperation, seek a convergence of interests with other countries, and expand common ground, so as to ensure that our cooperation is not only mutually beneficial but is beneficial to all parties.
- Bringing China's development achievements to other B&R countries
For several years now, China has accounted for about 30 percent of world economic growth. Through the rapid expansion of its demand for imports, China propels economic growth in the B&R countries that export goods to China. At the same time, China is making a growing contribution to international trade. China's imports in goods and services both account for one tenth of the total global value. In 2018, China imported goods worth RMB14.1 trillion, up 12.9 percent from 2017. Its FDI totaled US$129.83 billion, 4.2 percent higher than 2017, and the percentage of direct investment to other B&R countries grew year by year. Under the cooperation framework of the Belt and Road Initiative, China supports developing countries such as those in Asia, Africa and Latin America to invest more in infrastructure. As a result, the benefits of world economic development are continuously brought to those countries. According to the quantitative trade model of a World Bank study, the Belt and Road Initiative will increase the GDP of East Asian and Pacific developing countries by 2.6-3.9 percent on average.
- Improving people's wellbeing in other B&R countries
China includes the provision of aid in poverty reduction, agriculture, education, health, environmental protection and other areas into the joint efforts to build the Belt and Road. China has implemented the Program for China-Africa Cooperation on Poverty Reduction and Public Welfare, and pilot projects of the East Asia Cooperation Initiative on Poverty Reduction. It is actively helping countries in the basin of the Mekong River to tackle severe droughts by releasing emergency water supplies. It is also providing technological aid in flood control to Thailand and Myanmar. China signed an MoU with the WHO on health cooperation as part of the Belt and Road Initiative. It has also implemented a program for China-Africa public health cooperation and the China-ASEAN training programs for 100 public health professionals. China has trained several thousand professionals in public health management and disease prevention and control in cooperation with other B&R countries, and has offered free sight rehabilitation surgery to more than 5,200 cataract patients in those countries. Every year, China provides quality medical services to approximately 30,000 patients in neighboring countries. Chinese TCM teams have implemented plans for the rapid eradication of malaria in countries including Cambodia, Comoros, Togo, S?o Tomé and Príncipe, and Papua New Guinea.
- Facilitating the transfer of scientific and technological innovations to other B&R countries
China has signed 46 agreements on cooperation in science and technology with other B&R countries, and launched China-ASEAN and China-South Asia science and technology partnership programs. It has built five regional platforms for technological transfer with ASEAN, South Asia, Arab States, Central Asia, and Central and Eastern Europe, and proposed and coestablished the Alliance of International Science Organizations in the Belt and Road Region. A multi-level and diverse exchange mechanism in science and technology and humanities has been formed through various means, such as short terms of research in China by young scientists and the training of science and management personnel from other B&R countries. In 2018, China hosted 500 young scientists from such countries to carry out research, and trained more than 1,200 science and management professionals. China actively conducts cooperation with other B&R countries in space technology and makes its BeiDou Navigation Satellite System, satellite communication systems and satellite meteorological remote sensing technologies available to them.
- Promoting green development
Upholding the Paris Agreement, China actively advocates and encourages the integration of green development into the joint efforts to build the Belt and Road. China has signed an MoU on building green Belt and Road with the United Nations Environment Programme, and agreements on cooperation in ecological conservation with over 30 countries along the routes. Since building green Belt and Road has become an important means to implement the United Nations 2030 Agenda for Sustainable Development, more than 100 partners from the relevant countries and regions have established the International Coalition for Green Development on the Belt and Road. In 2016, under China's presidency of the G20, green finance became a key agenda item for the first time. A Green Finance Study Group was set up, which released the "G20 Green Finance Synthesis Report". China has actively implemented the Green Silk Road Envoys Program, and has trained 2,000 people from other B&R countries. It has issued documents such as "Guidance on Promoting Green Belt and Road" and the "Belt and Road Ecological and Environmental Cooperation Plan", with the aim of fulfilling its responsibilities and standards in building green Belt and Road.