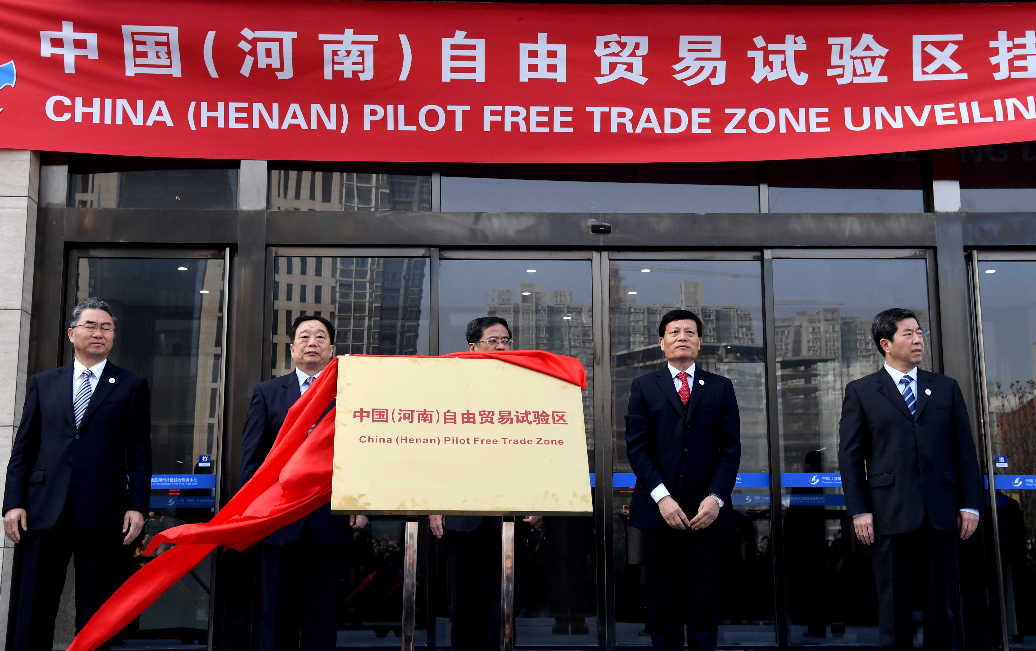 Unveiling ceremony of China (Henan) Pilot FreeTradeZone is held in Zhengzhou, capital of central China's HenanProvince, April 1, 2017. China takes freetradezones (FTZ) up to 11, with seven new FTZs starting operation on Saturday. (Xinhua/Zhu Xiang)

-- Implementation Area
The State Council formally approved the establishment of China (Henan) Pilot Free Trade Zone on 31th August, 2016. China (Henan) Pilot Free Trade Zone covers an area of 119.77 square kilometers, including 73.17 square kilometers in Zhengzhou,19.94 square kilometers in Kaifeng and 26.66 square kilometers in Luoyang.
-- Overview of Henan Pilot Free Trade Zone
(1) Strategic positioning
Taking the institutional innovation as core and the adaptable and propagable approaches as basic requirements, advancing the building of a modern multimodal traffic and logistics network linking up the north and the south and connecting the east and the west, building Henan Pilot Free Trade Zone into a modern comprehensive transportation hub, an all-round reform and opening-up pilot area and an inland open economy demonstration zone to serve the Belt and Road Initiative.
(2) Development goal
In 3-5 years, we will make great efforts to establish an innovative system meeting international general rules for investment and trade,shape a law-based, international, convenient business environment, and build a high-level and high-standard free trade zone which enjoys facilitated investment and trade, agglomerated high-end industries, convenient transportation and logistics, efficient supervision and remarkable radiation and driving effects, advancing the transformation and development of inland economy, as well as the building of new opening-up pattern in all aspects.
(3) Location and layout
Zhengzhou Area focuses on the development of modern manufacturing, such as intelligent terminal, advanced equipment, automobile making and bio-pharmaceuticals, and modern services,such as modern logistics, international business, cross-border e-commerce, modern finance, service outsourcing, creative design, commerce exhibition and cartoon&game. Meanwhile, Zhengzhou Area will push forward system and mechanism reform to promote the coordinated development of transportation and logistics and make investment and trade here more convenient, build an international multimodal transport and logistics center, and play its role of modern comprehensive transportation hub serving the BRI;
Kaifeng Area gives priority to the development of service outsourcing, medical tourism,creative design, cultural media, cultural finance, artwork trading and modern logistics. Meanwhile, Kaifeng Area will deepen the international cooperation and trade in equipment manufacturing and agricultural and sideline products processing, build a platform for international cultural trade and tourism, and create a service&trade innovation area and a cultural opening pilot area to promote the integrated development of international culture and tourism.
Luoyang Area concentrates on the development of advanced manufacturing, such as equipment manufacturing, robots and new materials, and modern services, such as R&D and design, e-commerce, service outsourcing, international cultural tourism, cultural creativity, cultural trade and cultural presentation. Meanwhile, Luoyang Area will increase the abilities in transformation and upgrading of equipment manufacturing and in international capacity cooperation, build an international intelligent manufacturing demonstration area, and push forward the building of inheritance area of Huaxia (Chinese) Civilization.
(4) Main pilot tasks and measures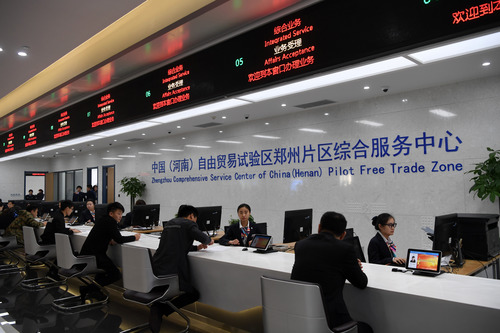 Photo taken on April 1, 2017 shows the Zhengzhou Comprehensive Service Center of China (Henan) Pilot Free Trade Zone in Zhengzhou, capital of central China's Henan Province. China takes free trade zones (FTZ) up to 11, with seven new FTZs starting operation on Saturday. (Xinhua/Zhu Xiang)
As for main tasks and measures,five aspects such as transformation of government functions, investment, trade, finance and transportation&logistics hub serving the BRI are put forward.
Firstly, speed up the transformation of government functions. Deepen the reform of the administrative system to streamline administration, delegate more powers, improve regulation, and provide better services; improve the market supervision mechanism, and promote the management focus from prior approval to operational and post-operational oversight over business. Increase the efficiency of administrative service, release the lists of all powers and responsibilities of administrative departments, and create law-based, international and convenient business environment.
Secondly, deepen the opening in investment.Make better use of overseas investment, put into force across the board the management system for pre-establishment national treatment plus a negative list, and build the operational and post-operational oversight over business that are compatible with the negative list management. Further reduce or cancel the admission restriction on foreign investment to increase the openness and transparency. Build a platform for cooperation in foreign investment, reform the management mode of investment abroad, and support investment of enterprises in foreign countries.
Thirdly, promote trade transformation and upgrading. Pursue the integrated development of domestic and foreign trade, advance the transformation and upgrading of trade modes,and shape a standardized and efficient trade facilitation environment. Improve the carrier of foreign trade development, create new trade modes and actively cultivate new forms and functions of business to form a new competitive advantage which takes technology, standard, brand, quality and service as the core. Create new supervision and management mechanism of customs clearance to improve the efficiency of customs clearance and inspection clearance and to avoid the quality and safety risks.
Fourthly, deepen the opening and innovation in the finance. Enlarge the opening up in the finance both internally and externally, expand functions of financial service, promote the innovation of cross-border financing and investment, and establish and improve the financial risk prevention and control system. Learn from the experience of the existing free trade zones based on the development needs of cross-border e-commerce and multimodal transport. Place priority on the reform and innovation in the introduction of foreign financial institutions and expansion of cross-border investment and financing.
Fifthly, enhance functions of the transportation&logistics hub serving the BRI. Improve the transportation&logistics system, advance the development of multimodal transport,and carry out key procedures to serve the BRI. Smooth the international transportation and logistics channels, improve the domestic land and air cluster network, pilot the multimodal transport, expand the openness of aviation service, promote economic innovation and development of inland ports,and promote the integrative development of international medical and tourism industry. Establish and improve the cooperation mechanism with key countries along the Belt and Road routes, and create new strengths for cooperation and exchange.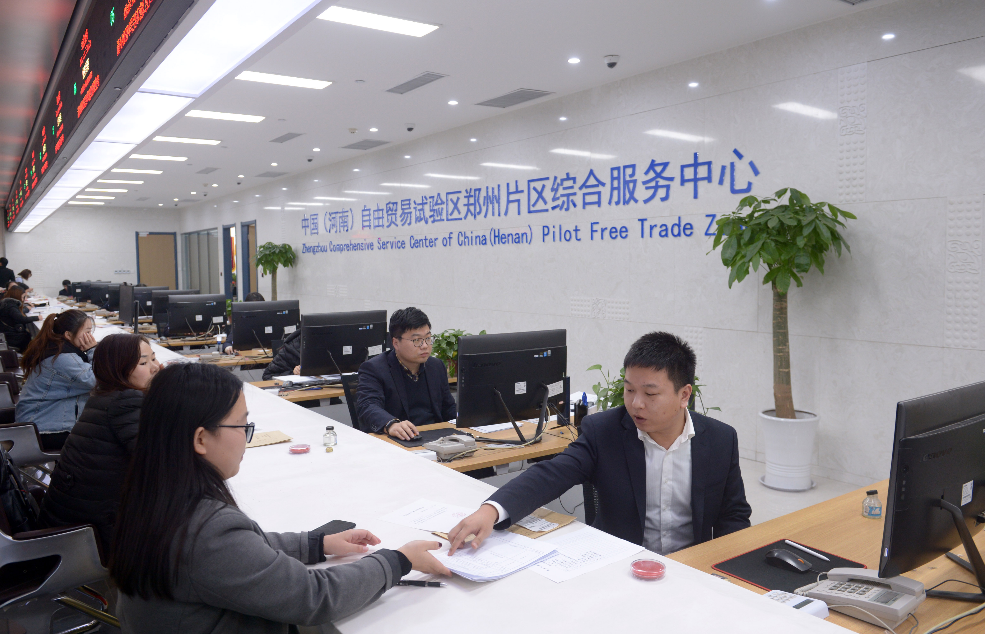 Staff members help applicants deal with affairs at Zhengzhou comprehensive service center of China (Henan) Pilot FreeTradeZone in Zhengzhou, central China's HenanProvince, Nov. 20, 2018. (Xinhua/Feng Dapeng)

--- Deeper development advantages
The free trade zone will bring about deeper development advantages in following aspects.
First of all, the areas of reform get wider.
The free trade zone turns from a pilot free trade zone in a narrow sense into a pilot comprehensive reform zone. Therefore, both the scope and the contents of reform are wider. Henan Free Trade Zone, in particular, takes on not only the task of spreading relevant successful practices of the first and second batches of free trade zones, but also the new tasks of exploration into, including guidance of the transformation and development of inland economy.
In addition, the range of linkage becomes broader.
Take Henan Free Trade Zone as example. According to the programs released this time and the relevant documents launched by the State Council before, Henan Free Trade Zone will be coordinated with the national strategies like the Belt and Road Initiative, "the Rise of Central China Plan", etc., and with Shanghai Free Trade Zone. The free trade zone now has formed a "137" flying-geese development model, which will strengthen and accelerate Henan's multi-faceted development linkage.
Third, the level of opening up is higher.
In my opinion, according to the programs of Henan Free Trade Zone, not only the areas opened for foreign investment will become more, but also the openness and transparency will further increase,and the forms of cooperation will get more diverse. This new stage of opening up matches better Henan's goals of quality improvement, transformation,upgrading and development.
Forth, the development and transformation of industries are more precise.
Featuring more precision, Henan Freed Trade Zone's programs are more aligned with the development level and transformation direction of Henan. Active development of the high-end manufacturing sector and modern service sector, especially stressed in the programs, will give new impetus to Henan's quality improvement, transportation, upgrading and development.
With the establishment of Henan Free Trade Zone, the 11 free trade zones nationwide jointly form a new all-round,high-level opening-up pattern balancing the East, Middle and West zones and coordinating development of land and sea. Every free trade zone has its own core goal. Closely centering on the Belt and Road, Henan needs to create an industrial system serving the integrated transport hub of the Belt and Road, in addition to building a modern integrated transport hub serving the BRI.
The programs assigned a particular task to Henan Free Trade Zone: driving industrial development by logistics development and building overseas economic and trade cooperation parks along the routes of the Belt and Road. The core goal indicates the development direction for China (Henan) Free Trade Zone. Henan will play a more important role in the Belt and Road, so that there will be much more experience awaiting exploration and innovation in this respect.