BEIJING, May 26 (Xinhua) -- Enterprises engaging in elderly care services in China have mushroomed in recent years as aging population has created huge development space for them, reported Securities Daily Monday.
Data from Tianyancha, a Chinese corporate data provider, show that the number of companies engaging in elderly care services in China had grown from 9,500 to 124,700 during the decade from 2010 to 2019.
In 2019, the number of new elderly care service companies in China approached to 32,000.
Data from the National Bureau of Statistics (NBS) show that China's aging population has been rising year by year since 2014 when the proportion of population aged 65 or above in the total population exceeded 10 percent for the first time, and the figure in 2019 registered 12.6 percent.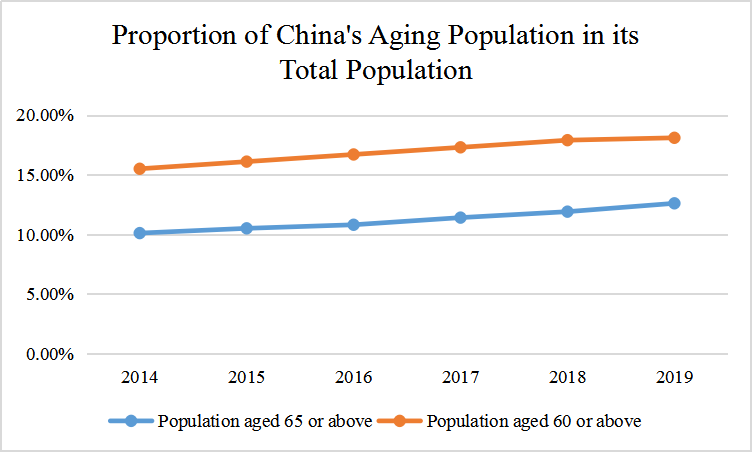 Source: National Bureau of Statistics
The output value of China's aging industry would exceed 100 trillion yuan in 2050, accounting for more than one third of the GDP, according to a calculation by the China Research Center on Aging.

Guangdong Province in south China and Shandong Province in east China boast the largest number of elderly care service companies, both exceeding 100,000.

Most of such companies focus on leasing and business services as well as health and social work, with the number accounting for 56.83 percent of the total.

Besides, 42.62 percent of such companies each have a registered capital of more than 10 million yuan.

Given that the increase of income would generate soaring demand for high-quality elderly care communities in the future, many companies in China have turned their eyes to "intelligent elderly care services".

According to Tianyancha data, 460 of China's existing elderly care service companies have got involved in "intelligent elderly care services", and most of them are located in Anhui and Jiangsu provinces in east China, as well as Guangdong. (Edited by Gu Shanshan with Xinhua Silk Road, gushanshan.1987@163.com)