China and Cook Islands signed the memorandum of understanding on cooperation within the framework of the Silk Road Economic Belt and the 21st Century Maritime Silk Road Initiative in November 2018.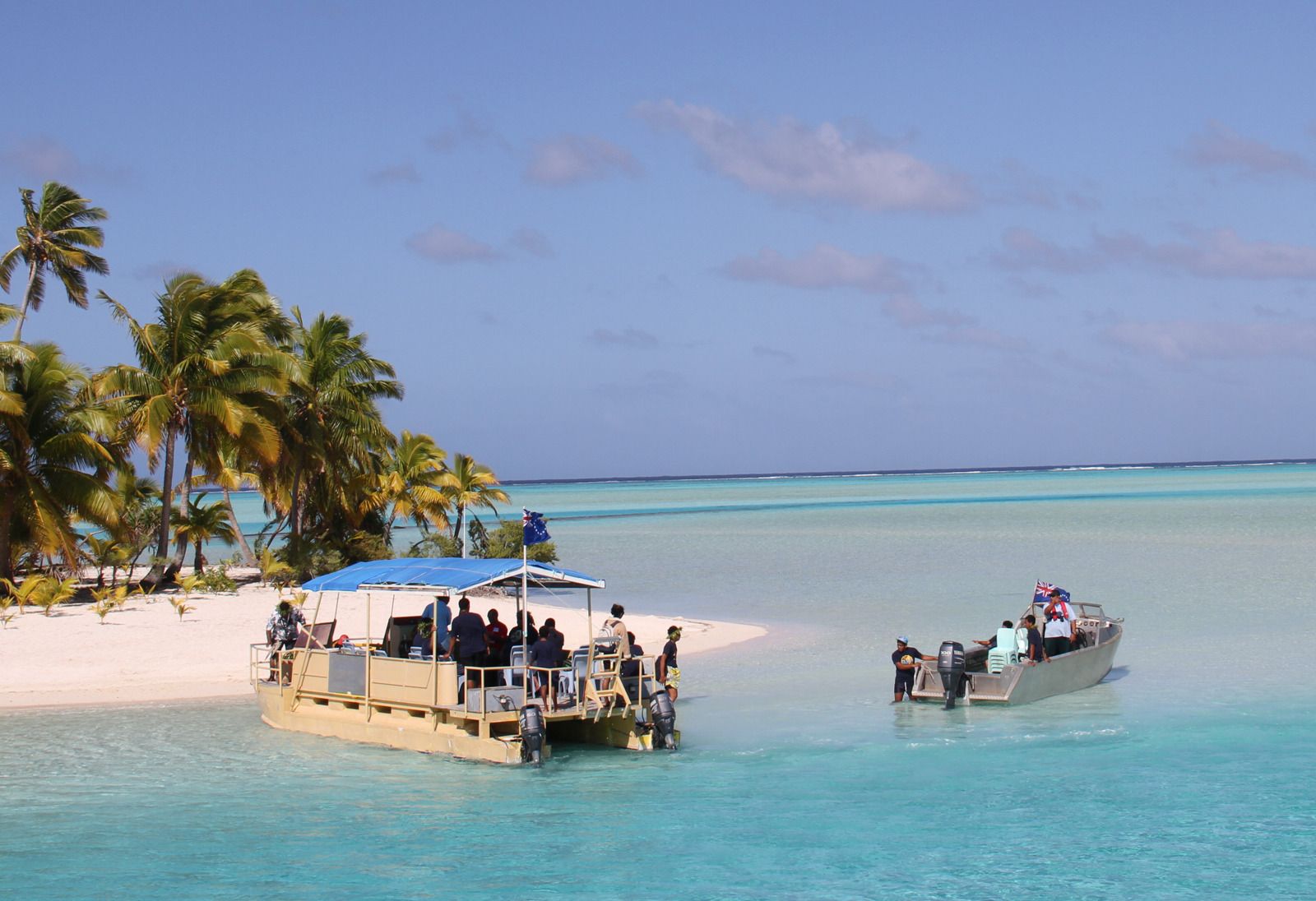 Cook Islands, a self-governing island state in free association with New Zealand, is located in the South Pacific Ocean. Its 15 small atolls and islands have a total land area comparable to that of a medium-sized city, but they are spread over about 770,000 square miles (2,000,000 square km) of sea -- an area nearly as large as Greenland. Niue, the westernmost of the islands, is an administratively separate state. The administrative seat is Avarua, on the island of Rarotonga.
-- Land
Each island is the top of one or more volcanoes, but only on the largest islands do the plugs and craters of now-extinct volcanoes still dominate the skyline; the highest of these rises to 2,139 feet (652 metres) at Te Manga, on Rarotonga, an island only 4 miles (6 km) wide. Many of the other islands of the southern group (Aitutaki, Atiu, Mangaia, Manuae, Mauke, Mitiaro, Palmerston, and Takutea) show various combinations of atoll and high-island formation. In the northern group (Manihiki, Nassau, Penrhyn, Pukapuka, Rakahanga, and Suwarrow), all except Nassau are atolls, narrow and low-lying sandbanks resting on circular reefs around lagoons rich in marine life.
Because the land areas are so small, there are no rivers, and only the largest islands have even small streams. There are small freshwater lakes on the high islands of Mangaia, Atiu, and Mitiaro; saltwater lagoons inside all the atolls; and fringing lagoons between most islands and their outer reefs. The rain that falls on the atolls permeates the island coral and is naturally stored in a lens-shaped layer above the heavier salt water. The islanders must rely on wells and rainwater storage tanks to conserve their limited sources of water.
-- Ethnic groups and languages
With the exception of the inhabitants of isolated Pukapuka, who are of predominantly Samoan and Tongan descent, almost all Cook Islanders have mixed Polynesian ancestry. Intermarriage with European, Chinese, and African settlers was common in the early 19th century.
There are two main indigenous Polynesian languages, one for the island of Pukapuka and the other (with dialectal variations) for all other islands. The latter, known as Cook Islands Maori, is an official language, as is English.
-- Religion
Christian denominations account for nearly all religious affiliation. Just over half of the population belongs to the Cook Islands Christian (Congregational) Church. Roman Catholicism, Anglicanism, Seventh-day Adventism, and Bahāʾī have smaller numbers of adherents.
-- Economy
Agricultural production consists primarily of small farming, either for domestic consumption or for shipment to New Zealand. Cassava, sweet potatoes, and other roots and tubers are the principal crops. Most commercial fishing is done by Taiwanese, South Korean, and Japanese vessels operating out of American Samoa, but there is widespread fishing for domestic consumption. Several species of tuna make up the primary catch.
Phosphate is present on the floor of the Manihiki lagoon, and there are vast deposits of manganese and cobalt and some other metals on the seabed near Manihiki. Exploratory mining operations began there in 1999. Imported fuels are utilized for energy production, though there is some use of solar and wind power.
The small industrial sector includes clothing and shoe manufacturing and food processing, mainly for export to New Zealand. Cultured pearls and fish are by far the major exports. Machinery of various kinds, minerals and fuels, and food and live animals are significant imports. New Zealand, Australia, and Fiji are the leading sources of imports; major export destinations are Japan, New Zealand, and Australia.
The service sector dominates the economy, with tourism the largest single contributor. Visitors come mainly from New Zealand, Australia, the United States, Canada, and Europe. The second largest economic sector is international finance, as the Cook Islands are a major offshore tax haven. Government plays a significant part in the economy and is the largest employer. Taxes are moderate, foreign investment is encouraged, and foreign aid --- largely from New Zealand --- makes a significant contribution to the economy. The New Zealand dollar is the monetary unit of the Cook Islands.
Each island has a network of roads; a paved road encircles Rarotonga and is served by public buses. Regular service by small aircraft connects all the larger islands. There are ports at Rarotonga (Avatiu), Penrhyn, Mangaia, and Aitutaki, but shipping schedules can be erratic. There is an international airport on Rarotonga.
-- Education
Education is free in government schools and compulsory between ages 5 and 15; some church schools operate in addition to those run by the government. Higher education is provided by a national teachers college and a nursing school, through apprenticeship programs, and through an extension centre of the University of the South Pacific at Avarua. Many overseas scholarships are provided by the government and by overseas donors. The vast majority of the people are literate.
-- Cultural Life
The government plays an active role in cultural life, particularly in the sponsorship of song and dance festivals for which the islands are renowned. A small library and museum in Avarua provide additional cultural attractions. Owing to tourism and intensive interaction with neighbouring industrialized nations, much international (generally Western) culture has been incorporated into daily life. Nevertheless, traditional ceremonies, such as that celebrating the first haircut of the favourite son in a family, are as vibrant as ever. The islands' distinctive cuisine draws on the traditions of Europe, China, Fiji, and Tahiti. Christian tradition, some of it a legacy of the English Victorian era, is strongly manifest, and modern American-derived evangelistic services and rituals are common. The major national holiday is Constitution Day, which usually gives rise to a 10-day celebration. A Tiare ("Gardenia") Festival, a parade of floats, and a series of song and dance competitions fill the annual calendar of festivities.
The broadcast media are privately owned, although the government issues licenses. Radio programming is available in English and Maori. Much of the television programming comes from New Zealand. The only daily newspaper, formerly government-owned, was privatized in 1989; other newspapers are published weekly or fortnightly.
Source: https://www.britannica.com/place/Cook-Islands