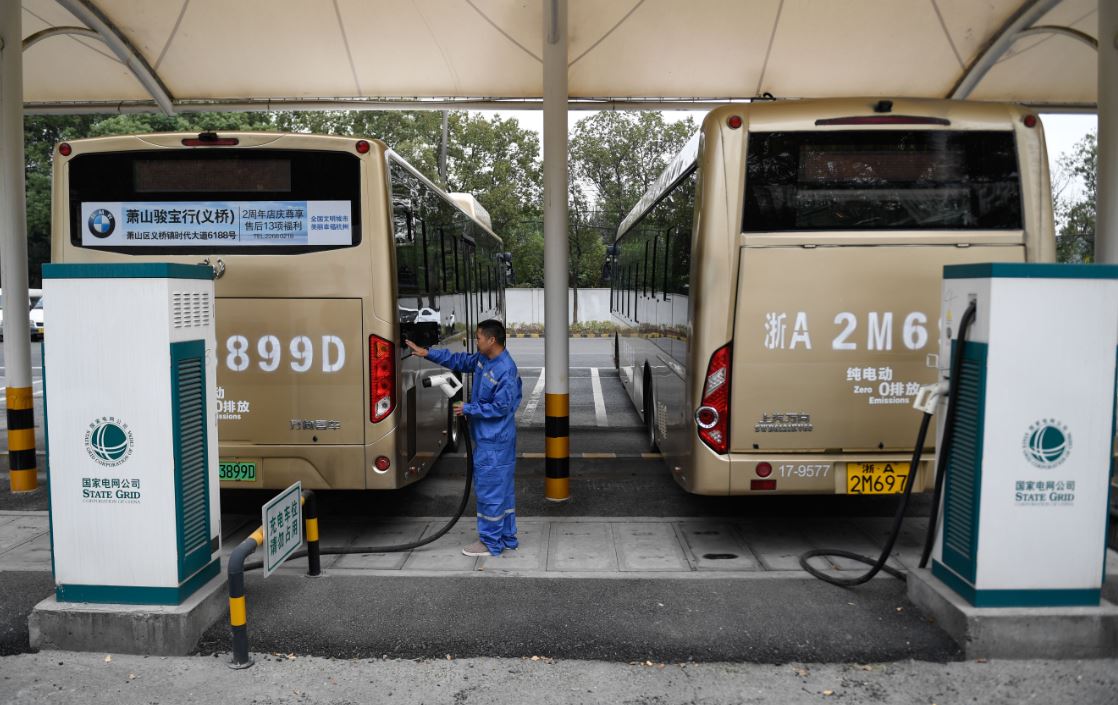 An attendant charges an electric bus at a State Grid charging station in Hangzhou, Zhejiang province. [Photo/Xinhua]

State Grid Corp of China has been shoring up efforts to ensure power security for the national fight against the novel coronavirus outbreak.
The power supplier for more than 1.1 billion people in China has vowed to continuously advance the construction of power supply facilities at 17 hospitals in Hubei province, the epicenter of the outbreak, while further solving power-related issues at 114 designated medical institutions and 554 fever clinics in the province.
It has also vowed to further restore the full-scale construction of key projects underway across the country to ensure that companies can resume operations.
According to the corporation, it would enhance efforts to guarantee the power use of hotels accommodating medical workers, as well as key enterprises researching and developing medicines and those producing, purchasing and selling medical equipment.
It also aims to ensure civilian power supplies, promising not to cut off electricity supply to households due to arrears during the outbreak.
Preferential measures have also been introduced to ensure electricity supply to medical institutions, medical facilities, government agencies and protective gear production enterprises.
The company donated 50 million yuan ($7.26 million) to Hubei province so far, together with assets worth 60.28 million yuan for power facility construction at Huoshenshan (Fire God Mountain) Hospital and Leishenshan (Thunder God Mountain) Hospital, the two hospitals built to treat patients infected by the coronavirus.
To ensure sufficient energy supply, the company also said it will restore its high-voltage direct current transmission lines traversing Qinghai, Henan and Jiangxi provinces, as well as new projects like transmission lines running from Northwest China's Shaanxi province to the city of Wuhan, the capital of Hubei, and the city affected the most by the epidemic.
Hubei-based enterprises under the corporation have also established an epidemic monitoring network, strengthening measures for epidemic prevention and control while supplying power to ensure safe production and operation.
Analysts said efforts of the State-owned energy companies to ensure power supply are very important for the fight against the epidemic as power plays a vital role in the economy.
Joseph Jacobelli, independent energy analyst and executive vice-president for Asia at Cenfura Ltd, said he believed that State Grid, with deep experiences in addressing power distribution challenges and the financial muscle to follow through, will swiftly and efficiently hasten power supplies to the 17 hospitals and resolve troubles at the other 114 medical facilities.
"The company is easily up to the task," he said.
Jacobelli said there would also be an opportunity for other power companies to build independent, self-power generation systems at hospitals and other key facilities using rooftop solar or other clean energy solutions.
(Source: China Daily)