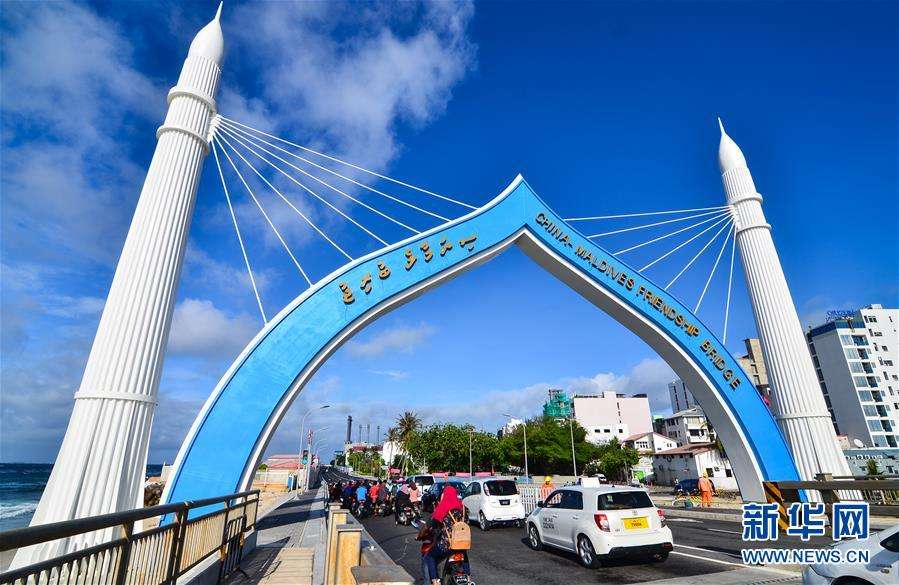 Sinamalé Bridge, developed as part of the Belt and Road Initiative (BRI), connects the Capital City Malé with Hulhumalé and Hulhulé of Maldives. (Photo/Xinhua)

Maldives, in full Republic of Maldives, also called Maldive Islands, independent island country in the north-central Indian Ocean. It consists of a chain of about 1,200 small coral islands and sandbanks (some 200 of which are inhabited), grouped in clusters, or atolls.
The islands extend more than 510 miles (820 km) from north to south and 80 miles (130 km) from east to west. The northernmost atollis about 370 miles (600 km) south-southwest of the Indianmainland, and the central area, including the capital island of Male(Male'), is about 400 miles (645 km) southwest of Sri Lanka.
The population of Maldives belongs almost entirely to the Maldivian ethnic group, which is the result of various peoples settling in the islands successively through the country's history. The first settlers, it is generally believed, were Tamil and Sinhalese peoples from southern Indiaand Sri Lanka. Traders from Arab countries, Malaya, Madagascar, Indonesia, and Chinavisited the islands through the centuries. The official language is an Indo-European language called Dhivehi (or Maldivian); Arabic, Hindi, and English are also spoken. Islamis the state religion.
Maldives can benefit hugely by being part of the Belt and Road Initiative (BRI), as a very strategic country located straight in the middle of the ocean, Maldives has been linking the east and the west for centuries, with market access to countries like India, Pakistan, Bangladesh and Sri Lanka. Currently China is helping Maldives to expand the facility in Male International Airport.
Source: https://www.britannica.com/place/Maldives