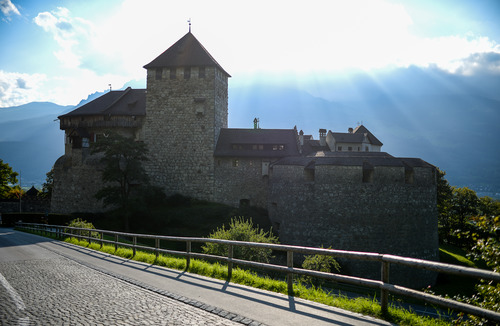 Liechtenstein is the fourth-smallest country in Europe and lies in the heart of the Alps between Switzerland and Austria. It is the sixth-smallest country in the world with a population of around 38,000.
Liechtenstein's small size and location in the heart of Europe makes it special. It is a monarchy, with the Reigning Prince as head of state representing the Principality in dealings with other countries. The Constitution sets out two methods of direct democracy: the Initiative and the Referendum. Legislative power lies with the Parliament, executive power with the Government. The judicial system in Liechtenstein is known as the Court of Justice ("Landgericht"); the highest judicial authority is the Supreme Court ("Oberster Gerichtshof").
Geography
Around half of Liechtenstein lies in the mountains (Central Alps), with the highest elevation the Grauspitz at 2599 metres above sea level. (The lowest elevation is Ruggeller Riet at 430m.) The Naafkopf mountain lies on the border between Liechtenstein, Austria and Switzerland. The peaks in the alpine areas are part of the Limestone Alps, while those belonging to the Fläscherberg and Eschnerberg chains are part of the Helvetic zone.
Economy
Liechtenstein may be small in size, but it is a stable business location with a highly diversified economy comprising over 4000 businesses and almost as many jobs as inhabitants. The Principality is one of the most highly industrialised states in the world, a strong financial centre and an innovative high-tech country.
Education
Liechtenstein boasts an attractive education landscape with a successful and diverse schooling system. The constitution stipulates that the state is responsible for schools. Research and science are important investments in the future to safeguard innovation in the state, economy and society. Liechtenstein takes targetted measures in order to transform research results into areas of strong economic growth such as new technologies, thereby creating new jobs.
Culture
160km², 37,000 inhabitants, 2,600 music pupils, 40 bands, 26 choirs, 10 brass bands, 2 orchestras, 2 musical theatres, 2 operetta stages and 1 opera company – the facts and figures about music in Liechtenstein speak for themselves and show clearly that the Principality has one of the most active culture scenes in the world. In Liechtenstein, culture is all about doing, creating and experiencing.
Source: https://www.liechtenstein.li/en