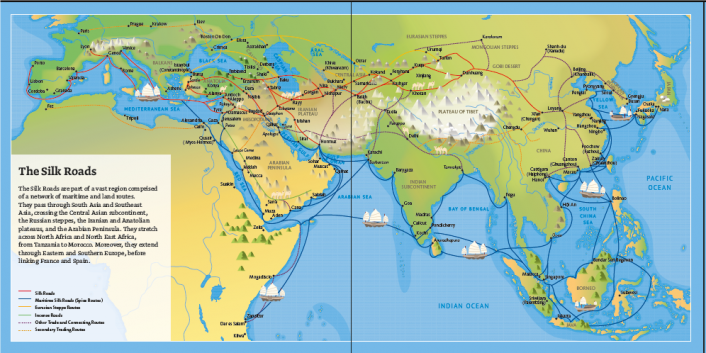 Perhaps the most lasting legacy of the Silk Roads has been their role in bringing cultures and peoples in contact with each other, and facilitating exchange between them. On a practical level, merchants had to learn the languages and customs of the countries they travelled through, in order to negotiate successfully. Cultural interaction was a vital aspect of material exchange. Moreover, many travellers ventured onto the Silk Roads in order to partake in this process of intellectual and cultural exchange that was taking place in cities along the routes. Knowledge about science, arts and literature, as well as crafts and technologies was shared across the Silk Roads, and in this way, languages, religions and cultures developed and influenced each other. One of the most famous technical advances to have been propagated worldwide by the Silk Roads was the technique of making paper, as well as the development of printing press technology. Similarly, irrigation systems across Central Asia share features that were spread by travellers who not only carried their own cultural knowledge, but also absorbed that of the societies in which they found themselves.
Indeed, the man who is often credited with founding the Silk Roads by opening up the first route from China to the West in the 2nd century BC, General Zhang Qian, was on a diplomatic mission rather than a trading expedition. Sent to the West in 139 BC by the Han Emperor Wudi to ensure alliances against the Xiongnu, the hereditary enemies of the Chinese, Zhang Qian was captured and imprisoned by them. Thirteen years later he escaped and made his way back to China. Pleased with the wealth of detail and accuracy of his reports, the emperor sent Zhang Qian on another mission in 119 BC to visit several neighbouring peoples, establishing early routes from China to Central Asia.
Religion and a quest for knowledge were further inspirations to travel along these routes. Buddhist monks from China made pilgrimages to India to bring back sacred texts, and their travel diaries are an extraordinary source of information. The diary of Xuan Zang (whose 25-year journal lasted from 629 to 654 AD) not only has an enormous historical value, but also inspired a comic novel in the sixteenth century, the 'Pilgrimage to the West', which has become one of the great Chinese classics. During the Middle Ages, European monks undertook diplomatic and religious missions to the east, notably Giovanni da Pian del Carpini, sent by Pope Innocent IV on a mission to the Mongols from 1245 to 1247, and William of Rubruck, a Flemish Franciscan monk sent by King Louis IX of France again to the Mongol hordes from 1253 to 1255. Perhaps the most famous was the Venetian explorer, Marco Polo, whose travels lasted for more than 20 years between 1271 and 1292, and whose account of his experiences became extremely popular in Europe after his death.
The routes were also fundamental in the dissemination of religions throughout Eurasia. Buddhism is one example of a religion that travelled the Silk Roads, with Buddhist art and shrines being found as far apart as Bamiyan in Afghanistan, Mount Wutai in China, and Borobudur in Indonesia. Christianity, Islam, Hinduism, Zoroastrianism and Manicheism spread in the same way, as travellers absorbed the cultures they encountered and then carried them back to their homelands with them. Thus, for example, Hinduism and subsequently Islam were introduced into Indonesia and Malaysia by Silk Road merchants travelling the maritime trade routes from India and Arabia.
(Source: The UNESCO Silk Road Online Platform)