BEIJING, Dec. 30 (Xinhua) -- Xinhua Silk Road, a Belt and Road-centered information platform launched by China's Xinhua News Agency, has recently rolled out the new version of English database in Beijing.
Users can register for free trial at https://en.imsilkroad.com/register.

Photo: the screenshot shows the homepage of Xinhua Silk Road English database after revision.
The revision helps improve user experience. The revised database adopts a three-column layout which enables users to query and read information on the same page, reducing the number of user clicks and page jumps.
Meanwhile, the revised database has also added colums of videos, bilateral trade reports, Chinese brands and consulting service. Users can briefly understand investment opportunities in province-level regions of the Chinese mainland by clicking videos. They can also get personalized consulting service for their investment decisions, with the help of experts via the consulting service column.
In addition, Xinhua Silk Road also launched the "Xinhua Indices" column in its English website, which contains four index systems, namely, the price index, theme index, the evaluation index and the financial index.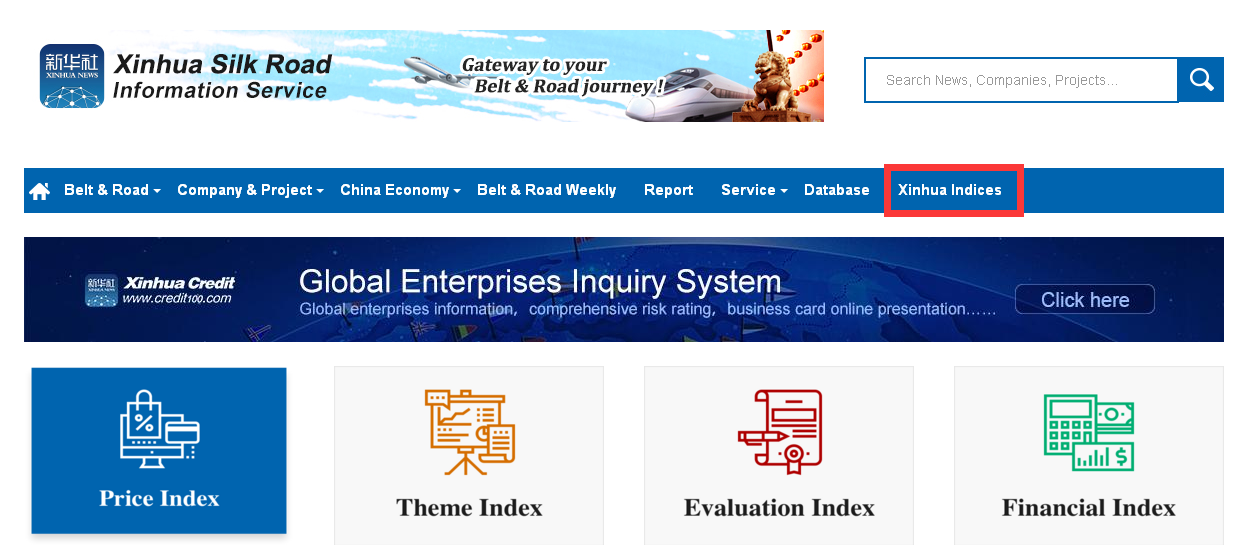 Photo: The screenshot shows the Xinhua Indices column in Xinhua Silk Road's English website.
Xinhua Silk Road, now run by China Economic Information Service (CEIS) of Xinhua News Agency, offers comprehensive services including investment environment analysis, business matching, brand building, and enterprise credit investigation for Chinese enterprises' "going global" and overseas enterprises' "coming in". (Edited by Hu Pingchao, hupingchao@xinhua.org)