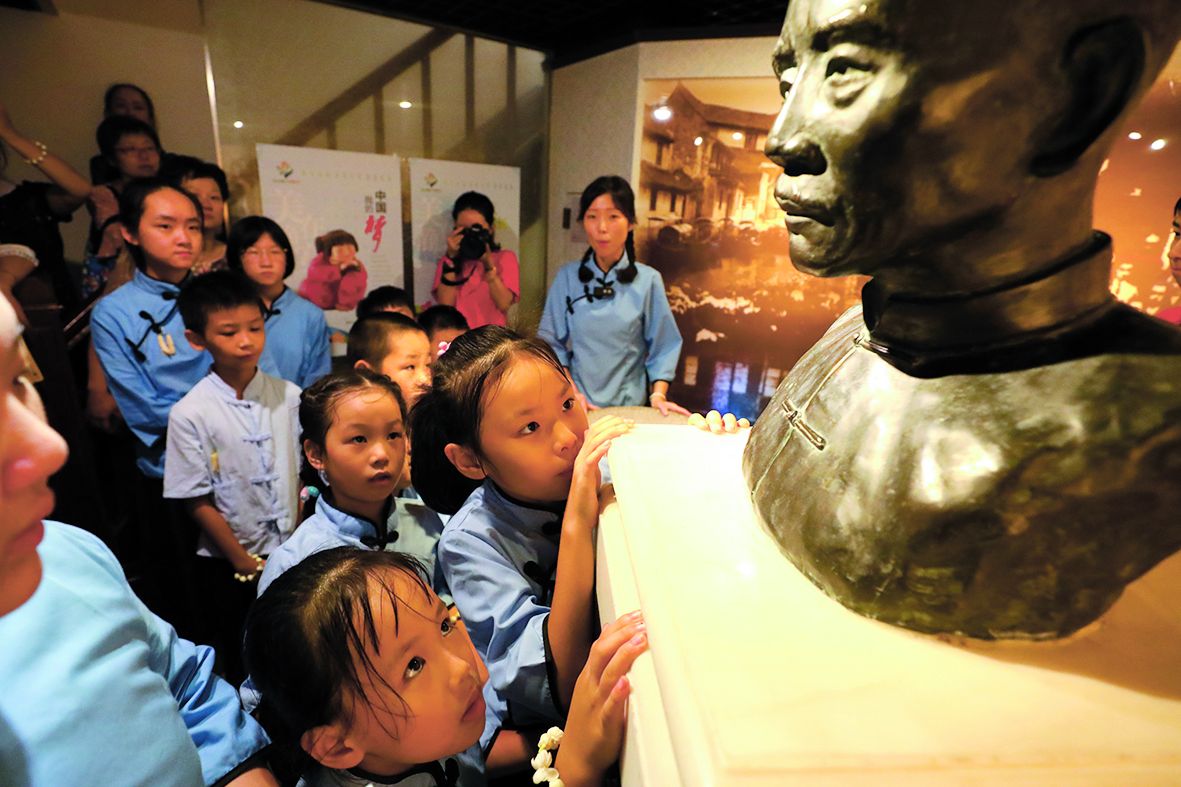 Remembering an education icon
Local residents donned school uniforms of the 1920s, played traditional Shanghai neighborhood games and watched a play at the former residence of esteemed educator Cai Yuanpei during the third parent-child evening event on August 24.
The play was scripted and performed by staff of the former residence and was intended to honor Cai's life and his contributions to the country.
Cai (1868-1940) was president of Peking University and founder of the Academia Sinica. He was revered for his synthesis of Chinese and Western ideas.
Go-getters take championship
Members of the Jing'ansi Subdistrict weiqi (go) team, champions of the 2019 China Home of Weiqi League, shared their experiences with game fans at Shanghai Shixi Middle School.
Chang Hao, vice president of the Chinese Weiqi Association and a go world champion, presented the championship trophy to the subdistrict. He also explained the strategy of the deciding game to weiqi fans, using an artificial intelligence system at the scene.
Smarter urban administration, planning
Jing'an District presented Shanghai's first artificial intelligence government platform at the 2019 World Artificial Intelligence Conference in Shanghai late last month.
Called the Jing'an Government Affairs Brain, the project combines government data with social data, using technologies like big data, cloud computing and artificial intelligence to track population trends, initiate smart urban planning and improve supervision. It has provided support to 11 district government departments.
Seeking closer ties with Milan
Jing'an District government held a marketing event in Milan earlier this month to promote its investment and service environment, and encourage more Italian companies to open branches in the district.
Shanghai and Milan have longstanding ties. The district government signed new agreements with Salvatore Ferragamo, Pasquale Bruni and Alma, an international school of Italian cuisine, to collaborate in fashion, design, food and culture.
Mirror on the designs of the future
Shanghai Design Week kicked off in late August at the Shanghai Exhibition Center, seeking to show how design affects culture, art, science and technology.
A three-day main exhibition displayed more than 200 brands and 10,000 new products.
A "Design the Design" forum invited participants to discuss the role of design in contemporary life and its future prospects.
Funding infusion for big data firms
An industry fund to support businesses involved in big data has been established in Jing'an, which has been called the "gray matter" of Shanghai's "smart city" ambitions. The fund was set up in Shibei High Technology Park, home of the Shanghai Data Exchange, China's leading big data center.
The fund offers financial aid to startups and smaller innovative businesses in the big data industry. Executives from Shibei and local investment companies unveiled the fund at the 2019 Shanghai Jing'an International Big Data Forum this month.
A big boost for eSports
The logo for the 2019 eSports Shanghai Masters, the first high-profile event of its kind in the city, was unveiled at the Daning Convention Center in Jing'an District on September 4. The Shanghai eSports Association signed contracts with event providers to formally launch a new eSports league.
The eSports Masters will take place in the Jing'an Sports Center between November 28 and December 1. So far, its registered events include Dungeon and Fighter F1 World Championships and three new competitions in Overwatch, Warcraft III Reforged and League of Legends.