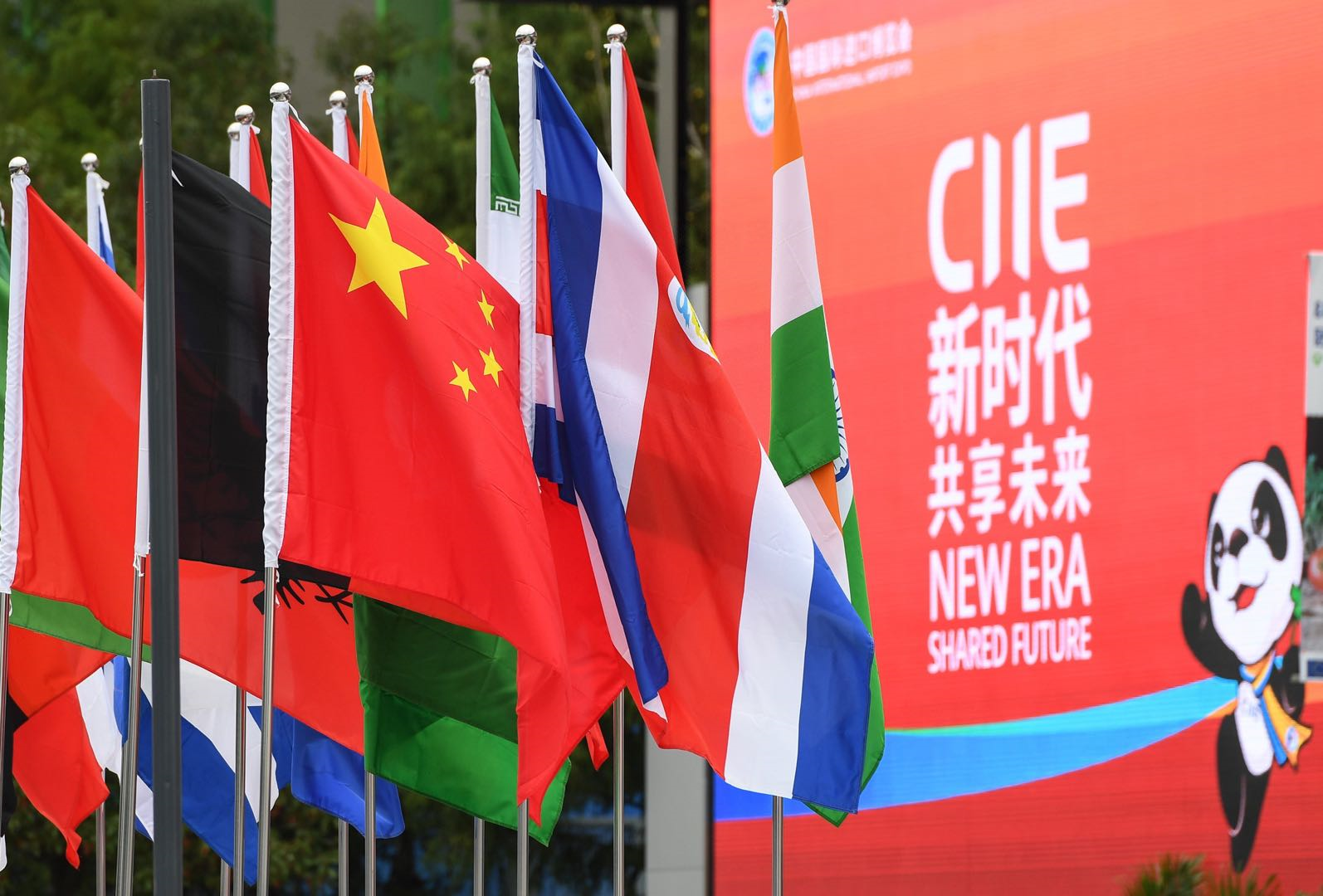 Photo taken on Nov. 5, 2018 shows flags at the venue of the first China International Import Expo (CIIE) in Shanghai, east China. (Xinhua/Li He)

BEIJING, Oct. 13 (Xinhua) -- The upcoming second China International Import Expo (CIIE) creates new chances for Latin American countries to get a share in the growing Chinese market, said exporters and scholars across the region.
The CIIE provides an ideal venue for global exporters keen to trade with China, offering a valuable opportunity for countries like Chile to get to know more about China and to learn about what products Chinese consumers could be interested in, said Chilean economist Manuel Agosin.
The trade relationship with China is extraordinarily important to Chile, and the more Chinese companies know about Chilean products that are available, the better, said Agosin.
In recent years, Chile has seen decisive growth in certain productive sectors, such as copper mining and fruit farming, and much of that "is due to its exports to China," said Agosin.
Cheese bread, Brazil's favorite breakfast and snack food, is now available at Chinese cafeterias, thanks to the first CIIE in Shanghai last year.
In May, Brazil's leading cheese bread maker Forno de Minas shipped its first container of 10 tons of cheese bread to China, supplying cafeterias in Shanghai. Two months later, the bakery made a second shipment to China with 18 tons of cheese bread in July.
"We are proud to have arrived in China," Gabriela Cioba, manager of foreign trade at Forno de Minas, told Xinhua.
Forno de Minas already exported cheese bread to 17 countries before it decided to tackle the Chinese market in 2018 by participating in the CIIE.
Such events as the CIIE are crucial to exporters, said Cioba.
Meanwhile, countries across Latin America are vying to attract more Chinese tourists as the Asian country now boasts the world's leading source of outbound tourism.
Uruguay's Deputy Minister of Tourism Benjamin Liberoff said the country is preparing to promote itself as a tourist destination at the second CIIE to be held in Shanghai in November.
"Uruguay is sending a delegation there," said Liberoff.
For El Salvador, which established diplomatic ties with China last year, has seen a robust growth in its exports to China, with coffee topping the list.
Ever since the two countries established diplomatic ties on Aug. 21, 2018, China has been actively developing the relationship based on mutual respect, shared benefit, equal footing and non-intervention in each other's internal affairs, said China's Ambassador to El Salvador Ou Jianhong.
In August, the first shipments of Salvadoran coffee embarked on trips for China through direct export.
China has attached great importance to agricultural cooperation with El Salvador in developing bilateral ties, said Ou.
Ou said she hopes Salvadoran businessmen could make full use of the second CIIE, to better present their products and services to Chinese buyers.
China-Latin America cooperation, built on the basis of equality, has been beneficial for both sides and helpful in boosting multilateralism, Argentine economist and China expert Gonzalo Tordini has said.
"Our region gives strategic importance to the relationship with China. This is demonstrated by the agreements that most Latin American countries have reached with China," the expert said during an interview with Xinhua.
"The relationship has developed not only at the investment and trade level, but also in the fields of culture, sports, education, tourism, science and technology," said Tordini, head of educational affairs at the Latin American Center on Chinese Political and Economic Studies.
China has become the second largest trading partner of Latin America, while the latter is one of the fastest growing regions in terms of exports to China. Two-way trade rose 18.9 percent year-on-year to reach 307.4 billion U.S. dollars in 2018, according to China's official data.