BEIJING, Aug. 14 (Xinhua) -- The Bank of China (BOC) and Xinhua News Agency (Xinhua) on Monday inked strategic agreement in Beijing, accelerating cooperation in the localization of financial industry's key information infrastructure for better serving the Belt and Road (B&R) construction.
Photo: Liu Zhengrong (L), Vice President of Xinhua News Agency, and Lin Jingzhen (R), Vice President of BOC, inked cooperation agreement in Beijing on Aug. 12, 2019.
The cooperation eyes for better satisfying specific financial and information needs by Chinese and foreign companies by docking Xinhua Silk Road, the national B&R information service platform undertaken by Xinhua's China Economic Information Service (CEIS) with BOC's existing service system, according to the agreement.
Xinhua Silk Road will equip BOC's overseas construction with tailored multi-language dissemination scheme and full-package high-end think tank service to expand brand influence and social benefits.
Stepping upon core business and advantages of both sides, BOC and Xinhua could form powerful synergy to collaborate in serving B&R construction, supporting poverty alleviation and advancing RMB internationalization, Lin Jingzhen, BOC Vice President said in a speech delivered at the signing ceremony.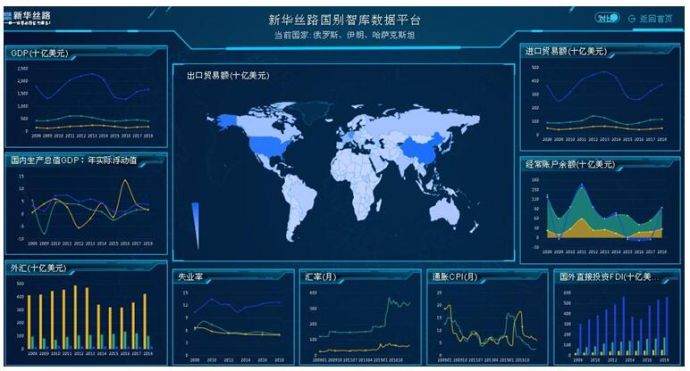 Photo: Xinhua Silk Road's think tank data on country information (Chinese version)
By the end of the first quarter of 2019, BOC's overseas institutions have covered 57 countries and regions around the world including 24 B&R-related countries, standing out among Chinese banks with its widest global as well as B&R coverage. It realized a total of 136.1 billion U.S. dollars in new credit grants for B&R countries from 2015 to this March, while supported 600 key projects in B&R countries and regions.
Positioned as a national information platform serving the Belt and Road Initiative, Xinhua Silk Road is poised to serve all B&R participants with real-time information, think tank research, investment and financing environment and risk assessment, project and trade matching, on-line consultancy, global structured data as well as other tailored services. The Chinese database of Xinhua Silk Road accumulated structural data of more than 280 million pieces by the end of July in which think tank text data reached 140,000 pieces. The English database of Xinhua Silk Road has structural data of more than 90 million pieces including approximately 30,000 pieces of think tank text data. (Edited by Niu Huizhe, niuhuizhe@xinhua.org)