BEIJING, July 9 (Xinhua) – The Port of Hamburg, the largest port in Germany and second largest container port in Europe, had a total seafreight volume of approximate 8.7 million twenty-foot equivalent units (TEU) last year, according to the statistics released by the port.
In 2017, the port's container throughput exceeded 8.8 million TEU, and the port handled 30.9 million tonnes of dry bulk cargo and 13.7 million tones of liquid cargo, data from Chinaport.com showed.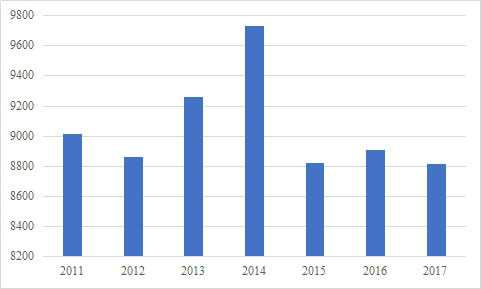 Fig.1 Container throughput of Hamburg Port in 2017(Unit: '000 TEU)
Source: www.smu-cemil.com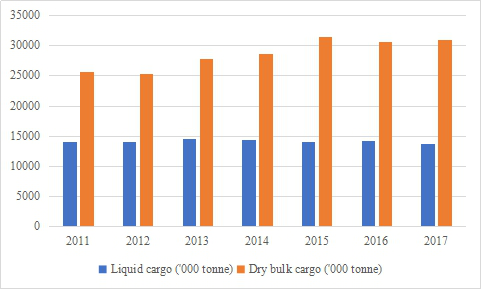 Fig.2:Dry bulk and liquid cargo throughput of Hamburg Port(2011-2017)
Source: www.smu-cemil.com
The port was founded in 1189 and now it grew into the world's biggest free port. The world's biggest warehousing city was built in its central zone, covering an area of 500,000 square meters. Hamburg port is the most important transshipment port of Europe. Moreover, it is an important railway and air hub of Germany. Its urban district spans over two sides of Elbe River. River courses and bridges are everywhere in Hamburg. Transit tunnels were set up to connect two sides of Elbe River. Hamburg has a well-developed industry and commerce and it is German shipping-building center.
Besides, Hamburg is also an important hub of China-EU freight trains in Germany.
In 2017, China-EU freight trains had an explosive growth and about 3,673 freight trains were operated, increasing 116 percent and more than the sum of trains operated in previous six years. In 2018, they maintained a momentum of quick growth. In the first half of 2018, overall 2,490 freight trains were operated, increasing 69 percent compared with the first half of 2017. It has initially realized heavy carriage back and forth. The ratio of return train is steadily growing.
Previously, components and parts bought from Germany were usually transported to China by sea. The transportation process was complex and transportation time was as long as 45-50 days, which resulted in high cost. Now, the transportation mode is changing into China-EU freight trains. The change shortens transportation time and reduces transportation cost. (Edited by Yang Yifan, yangyifan@xinhua.org)