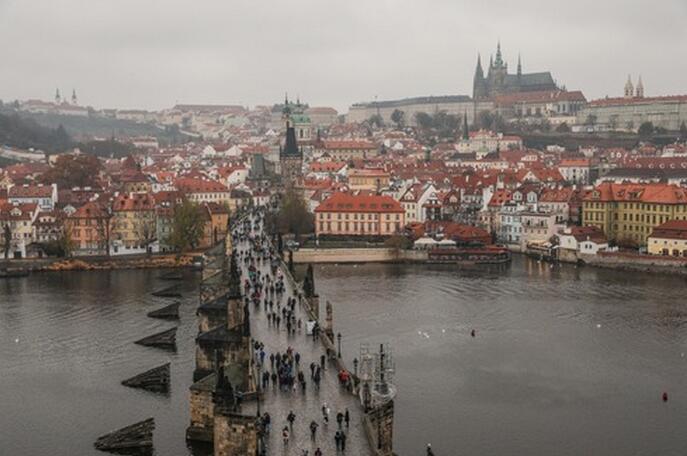 File Photo: Tourists walk on the Charles Bridge in Prague, capital of Czech Republic, Nov. 20, 2018. (Xinhua/Zheng Huansong)
PRAGUE, May 9 (Xinhua) -- About 30 overseas Chinese entrepreneurs on a business visit to the Czech Republic exchanged views here on Thursday with the local business community in a bid to explore business opportunities in the country.
"Czech Republic, with its special location as the center of Europe and its rapid development of bilateral relations with China, is considered a good place to do businesses," said Wang Qinxian, executive vice president of China Federation of Overseas Chinese Entrepreneurs (CFOCE), at the exchange event.
"Business opportunities brought along with the Belt and Road construction are especially attractive for overseas Chinese entrepreneurs as we see China's willingness to cooperate with the whole world," Wang explained.
The CFOCE brought a 30-strong delegation to the Czech Republic after trips to Belarus and Poland. The ten-day visit along the Belt and Road countries is to help entrepreneurs better understand the investment environment of these countries for possible cooperation opportunities.
"It's not enough to make decision in just one visit. But after the visit, we know where to begin and who to look for if we want to invest," said Zhang Daqi, CEO of Sain and Qikun Group, a company engaged in biological health and intelligent service for the elderly.
Zhang added that the Czech Republic, with its beautiful environment and harmonious lifestyle, gave him a lot of new ideas for business.
Yang Guangmin, president of China Hovercraft Ltd., received hovercraft orders during the visit to Poland.
"I think we can also sell our hovercrafts in the Czech Republic, as the country has a lot of rivers, including the most famous one, the Vltava," he said.
The delegation will conclude their visit this Friday.