BEIJING, April 26 (Xinhua) -- "World·Silk Road·Future", a Chinese-English bilingual album comprised of successful stories of projects made under the Belt and Road Initiative (BRI), made its debut on the Second Belt and Road Forum for International Cooperation (BRF) held in Beijing during April 25-27.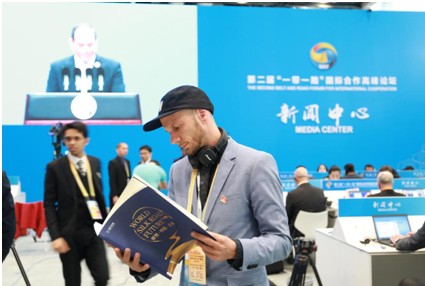 A reporter reads the "World·Silk Road·Future" album in the Media Center of the Second BRF. (Xinhua/Shi Chunjiao)
Compiled by China Economic Information Service (CEIS) of Xinhua News Agency, the album attracts wide attention at the media center of the second BRF, the Thematic Forum on Think-Tank Exchanges of the Second BRF and the Belt and Road Studies Network First Annual Meeting.
Sourcing from a case database of Xinhua Silkroad, CEIS' state information platform focusing on Belt and Road information, 10 vivid stories in the album give a picture of the Belt and Road construction in policy coordination, facilities connectivity, unimpeded trade, financial integration and people-to-people bond as well.
The ten stories including The Sinamalé Bridge flying over the Maldivian sea, The Weight of the Great Stone, and Yamal LNG project: a tribute to China-Russia cooperation at "end of the world", tell people around the world about stories of cherished dreams and expectable future relating to 10 BRI projects such as the China-Maldives Friendship Bridge, China-Belarus Industrial Park, and the Mombasa–Nairobi Railway.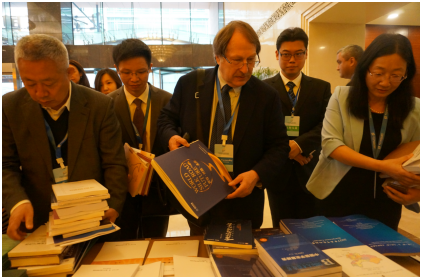 Attendees of the Second BRF take albums on the Second BRF. (Xinhua/Zhao Na)
"If there is a rainbow hanging over the Silk Road, the most gorgeous shade should mark common prosperity. From an ambitious vision in keeping with the times, to many quality projects all over the world, the Belt and Road Initiative never wavers in its pursuit of creating a better life for humankind." Just as the preface of the album says, the publication contributed by Xinhua news reporters and analysts at home and abroad, is to tell the world "we are all participants in constructing the Belt and Road."
Year to date, Xinhua Silkroad, launched since July 2015, has grown as a characteristic multi-language platform serving all participants in the Belt and Road construction, including governments, enterprises and institutions. (Contributed by Shi Chunjiao & Li Haoran, Edited by Duan Jing, duanjing@xinhua.org)