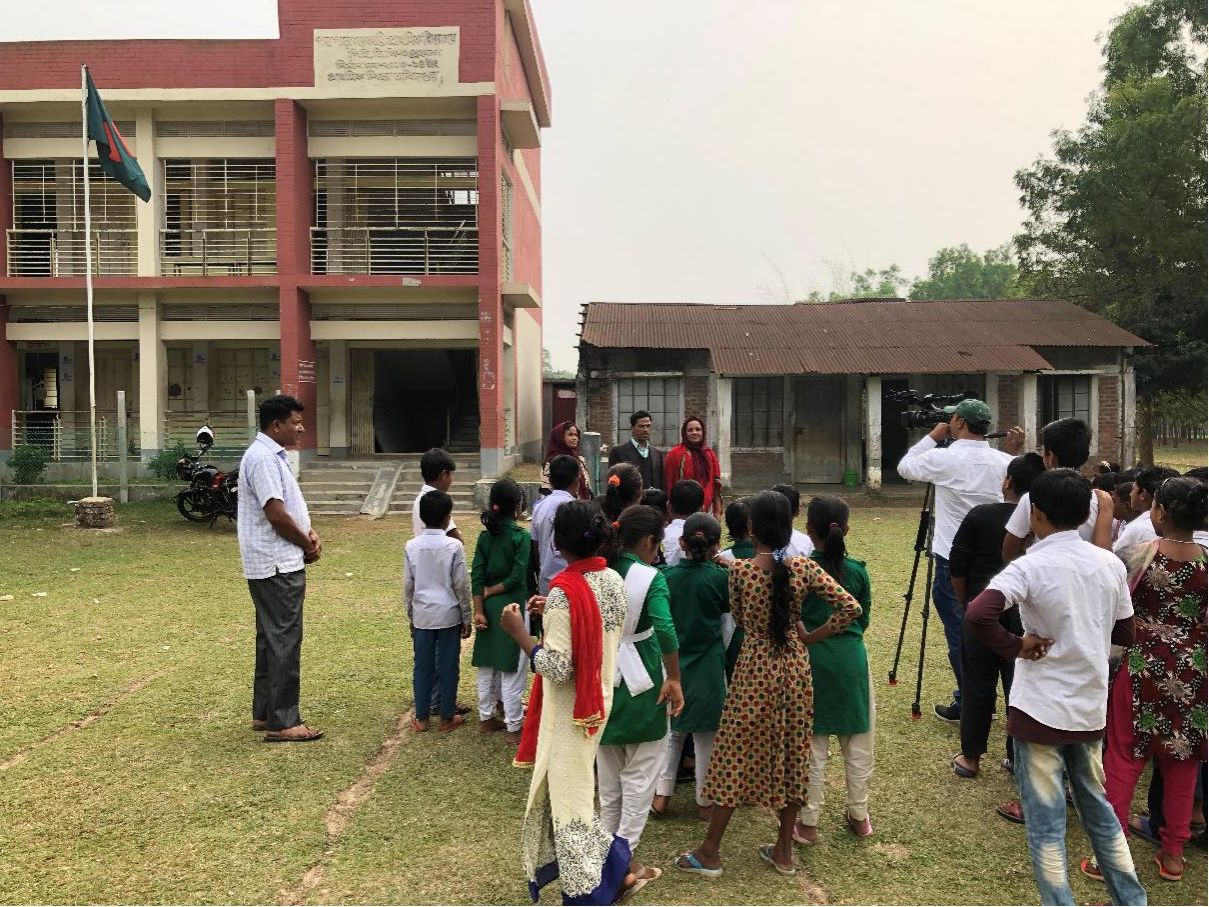 Kids of a primary school in Padmo Para Village are watching the reporter taking pictures, March 5, 2019. (Xinhua)
BEIJING, April 26 (Xinhua) -- Padmo Para is a remote small village in Dhaka District, Bangladesh. Electricity meters were installed here in 2018, ending a history of no power access since the country gained independence in 1971.
The huge change should be attributed to the upgrade and transformation project of Bangladesh's power distribution system. This is the first project winning independent financing of Asian Infrastructure Investment Bank (AIIB), and also represents the first loan obtained by Bangladesh from AIIB. The bank offered a total of 165 million U.S. dollars for the project.
Alee, general manager of Dhaka Rural Electricity Association I (the country has 11 electricity associations) said, like other 200-plus households in Padmo Para, the 36,000 households within his service area have all gained access to power via this project. "The cooperation between the association I belong to and AIIB has been very smooth. Many facilities used for the project came from China, as Chinese products feature reasonable prices and high quality. Next week I will pay another visit to China mainly to purchase prepayment meters."
To feel the changes brought by the project, Alee suggested that we should visit Padmo Para. With curiosity, we drove on a simple, narrow rural asphalt road, and then an urban highway before a muddy road. Because of the poor transport conditions and the remote location of the village, it took us nearly two hours to finish the 20-plus kilometers journey.
Our first stop was the primary school of the village. It was a small school with a two-storey teaching building, in front of which was a fluttering national flag of Bangladesh, together with a green playground. Amid the village houses made of iron sheets and adobe, the brick building was the best the village could offer, which also reminded me how the country values education. The students, who were playing on the playground in school uniform, rushed to us and watched our photographic equipment with curiosity.
A gong and a mallet hung at the beam of the teaching building, which seemed to serve as a school bell. Besides the stairs, there was a meter installed last year, which showed a number of 252.5 kWh. It was a local brand. According to Alee, all parts and components of the meter came from China.
A teacher told us that the school has 150 students from grade 1 to 5. After getting access to electricity, they can use electric fans, lamps, projectors, and computers, with the bills covered by government. Before then, the school had no power and fewer students, who performed poorly. Each day after sunset, students would go home to play or for sleep. Now, students can prepare lessons at home. As a result, their performance has improved, thanks to the government and the AIIB.
Our second stop was a household of the village. It was a simple yard with an iron house, an adobe house, and several thatched cottages. Both the interior and exterior of the yard were clean, and the meter was installed on the outer wall of the iron house. A young man in Longyi, a kind of local traditional clothing, led us into the adobe house. Except for a lamp on the roof, there was barely any electrical equipment. Two stacks of books were on the old wood table against the wall. "I study at a nearby school. With electricity, I can read in evening," the young man said and smiled timidly.
When we entered the house of another villager, I came to notice the two fire pits on the ground and the firewood nearby. The villager told us that previously, each household had to cook with fire pit. Since they can use electricity, people start to purchase some kitchen appliances.
Fukulu, deputy general manager of Mouchak Zonal Office of Bangladesh Rural Electrification Board (BREB), Dhaka District, was responsible for power supply of the village. He said that the remote village had never had electricity since the country gained independence in 1971. Last year, all households gained access to power, and people start to use water pump for irrigation, which boosts crop yields.
While speaking, he pointed to the nearby green cropland, where new rice seedlings have grown to a height of 20-plus centimeters.
Kumar, deputy general manager of Kaliakair Office of the BREB, Dhaka District, said, "Many years ago, Bangladesh formulated its electricity development vision to ensure full coverage of power access by 2021. The region where I lived got full access to electricity last year when the AIIB project, inaugurated by Prime Minister Sheikh Hasina, was completed. Now the power supply is stable, and the competence of local power technicians is also improving."
Bangladesh Rural Electrification Board and Dhaka Electric Supply Company are responsible for the power distribution upgrade and transformation project. The project is designed to install another 2.5 million meters and 65 thousand transformers in rural regions of Bangladesh, together with 75 thousand kilometers of transmission line. It seeks to enhance the power service capacity in rural areas and benefit the more than 12.5 million rural people in the country.
Since its founding in Jan. 2016, the AIIB has offered nearly 300 million U.S. dollars for three projects in Bangladesh, including Bhola power plant project (60 million U.S. dollars), natural gas infrastructure and efficiency enhancement project (60 million U.S. dollars), and power distribution upgrade and transformation project (165 million U.S. dollars).
An official of the Economic Relations Division of Bangladesh said that, the arrival of AIIB means huge benefits for developing countries like Bangladesh, especially for rural people. The three projects under way have greatly benefited those who had no power access previously. As such, AIIB has contributed to the early realization of Bangladesh's objective, namely full power coverage across the country by 2021.
According to Laurel Ostfield, head of AIIB's Communications Department, currently AIIB is inspecting Bangladesh's another four projects worth around 640 million U.S. dollars. They are the Mymensingh-Kewatkhali bridge project (153 million U.S. dollars), Sylhet-Tamabil road upgradation project (268 million U.S. dollars), the power system upgrade and capacity expansion project (120 million U.S. dollars), and municipal water supply and sanitation project (100 million U.S. dollars).
In the Asian Infrastructure Finance Report 2019 newly released by AIIB, it is noted that for Bangladesh to realize its "Vision 2021" and join the club of middle-income countries, it needs as much as 24 billion U.S. dollars in infrastructure investment each year. Amid the volatile market and the slower global economic growth, it is necessary to build trans-border infrastructure that can boost trade, market integration, and green energy supply. China, India and other countries have projects with huge potential, which can greatly improve the much-needed interconnection of Central Asia and South Asia.
German Dr. Joachim von Amsberg, vice president for Policy and Strategy of AIIB, said that Bangladesh is a fast-growing economy, and the ever-improving economy is offering opportunities for the country to enhance its poor infrastructure. Going forward, they will renew the close cooperation with Bangladesh government and other partners, to identify and support the major projects that can generate profits and boost economic development. (Contributed by Liu Chuntao, edited by Duan Jing, Gu Shanshan)