NANJING, April 18 (Xinhua) --The opening and major project signing ceremony of 2019 China Yangzhou Flowery March International Economy, Trade and Tourism Festival was hosted Thursday in Yangzhou City, Jiangsu province.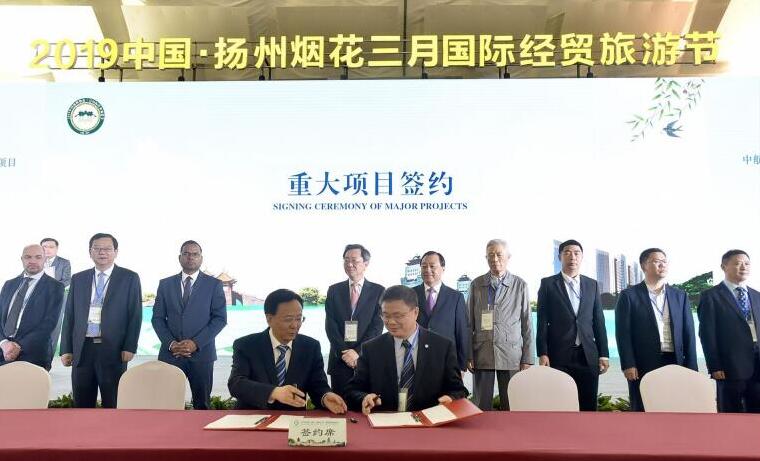 The annual event lasts for one month with a series of economic, trade and tourism activities to be staged. Delegations from Fortune Global 500 Companies, top 100 domestic private enterprises and high-tech industries attended the ceremony this year。
A total of 55 industrial projects are signed in the ceremony, involving a total of about 65.8 billion yuan worth of investment.
Yangzhou, a scenic city located at the north bank of Yangtze River, is grasping the overlapping opportunities brought by the Yangtze River Economic Belt, the Yangtze River Delta integration, the Grand Canal Cultural Belt and the high-speed rail era, and strives to build a beautiful and livable park city with unique charm, an international cultural tourism city and a vibrant emerging technological innovation city.
Yangzhou is committed to offering more preferential policies and market facilitation measures to better serve enterprises and creating a fair, efficient and convenient market environment, said Xia Xinwen, mayor of the city, adding that Yangzhou has taken the first place in Jiangsu province's business environment assessment of major cities.
Yangzhou has also entered fast development lane in building a technological innovation city. So far it has built more than 4.7 million square meters of science and technology industry complex, attracting more than 3,100 enterprises and over 45,000 talents to settle down, and forming three industrial clusters each with a size above 100 billion yuan yuan.
Yangzhou, a hot tourist destination with more than 2,000 years of history, has held the annual festivals for 18 consecutive years, and it has become an important platform for Yangzhou to promote economic and trade cooperation as well as strengthen cultural exchanges. (Contributed by Zhao Ding, Edited by Bao Nuomin)