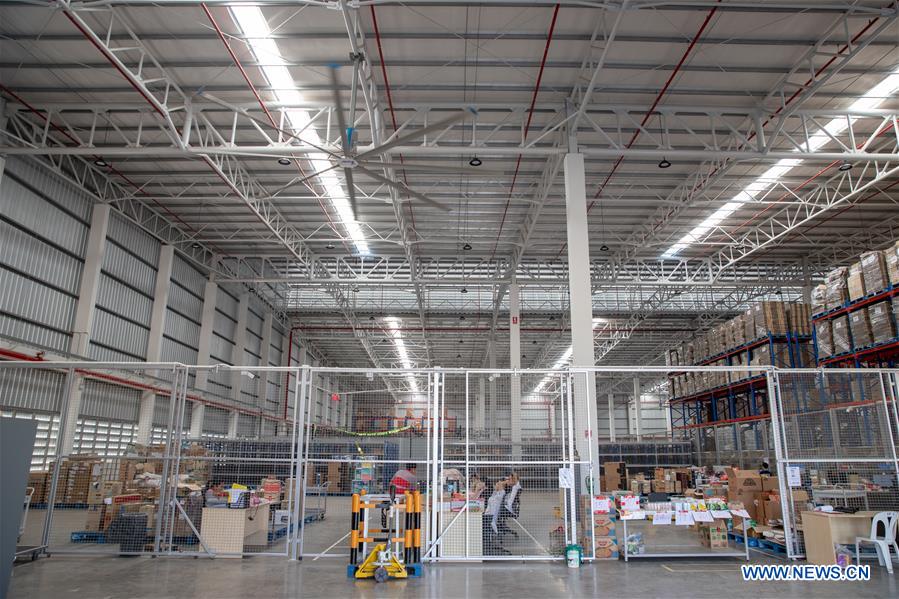 Photo taken on Jan. 23, 2019 show the warehouse of JD CENTRAL, an online shopping platform jointly launched by the Chinese online retailer giant JD.com and top Thai retailer Central Group, in Bangkok, Thailand. (Xinhua/Yang Zhou)
By Yang Zhou, Guo Xinhui, Wang Jin
BANGKOK, March 22 (Xinhua) -- "The delivery was unbelievably fast", said Pyo, a Thai gym rat living in Bangkok who ordered a jar of protein powder recently from JD CENTRAL.
"I ordered it that morning and it was delivered in the afternoon of the same day."
In September 2017, the Chinese online retailer giant JD.com announced that it would cooperate with top Thai retailer Central Group to form a joint venture in e-commerce.
A year after, JD CENTRAL, a new online shopping platform was officially launched after a 3-month trial period, entering the arena of Thai e-commerce industry with a big dream.
After being successful in China, JD based on experience gained back home introduced an integrated logistic system to Thailand, which is their key advantage compared with other e-commerce platforms.
"Our delivery service is what attracts customers", said JD CENTRAL Chief Executive Officer Vincent Yang. "We have asked our customers why they chose us and 80 percent of them said fast delivery."
Yang said JD.com provides "211 service," an order placed before 11 a.m. could be delivered on the same day, or the next day if the order is placed before 11 p.m. In China and now Bangkok residents can enjoy the same service offered by JD CENTRAL.
Nowadays, the "211 service" only covers direct sales on JD CENTRAL. However, it is set to be open for other sellers in this year, Yang said. "We may also provide the service to other sellers who are not on our platform as well in order to fully upgrade the delivery efficiency in Bangkok."
JD CENTRAL dreams bigger than being a successful online retailer in Thailand. They want to establish a holistic infrastructure for e-commerce to be more smoothly and efficient.
"Our direction is there, very clear," CEO Yang said as they want to be a "retailer and retail infrastructure provider."
"We just build up the traffic, transaction, compliance, payment platform, which are key factors in e-commerce delivery."
"We are spending a lot of time in establishing the infrastructure so we can help all sellers and make e-commerce more smoothly, efficient, and low-cost, which is our goal", he said.
"We want to be the most reliable platform in Thailand with a holistic service system that benefit all retail sellers in the kingdom."
CEO Yang also mentioned they are bringing high quality Chinese products to Thailand and vice versa to support small and medium enterprises (SMEs) from both countries.
"Our partner Central Group is providing us with the best quality products with the best price. There are many good products in Thailand that the annual 10 million Chinese tourists missed, so we are helping Thai SMEs to sell their products to China, such as a snack food, dried mango wrapped with dried durian."
Since e-commerce is new to the kingdom, JD CENTRAL also attaches great importance to talents training, CEO Yang said.
JD selected Thai students who graduated from China as management trainees a year ago. They had been in rotating training in different departments, including sales and purchasing, marketing, delivery of JD in China and just came back to Thailand to work for JD CENTRAL.
"I think getting a chance to work for the e-commerce giant is my first step to success. I learned a lot when I was rotating in different departments in China. I really cherish the chance," said Budsayapar Tontayapiromkul, who had finished a two-year master degree program in China.
According to CEO Yang, 95 percent of JD CENTRAL's employees are Thais while every department has one or two specialist to act as advisors so that JD CENTRAL can be both highly localized and inherit experience and advanced technology appliance from JD.com.