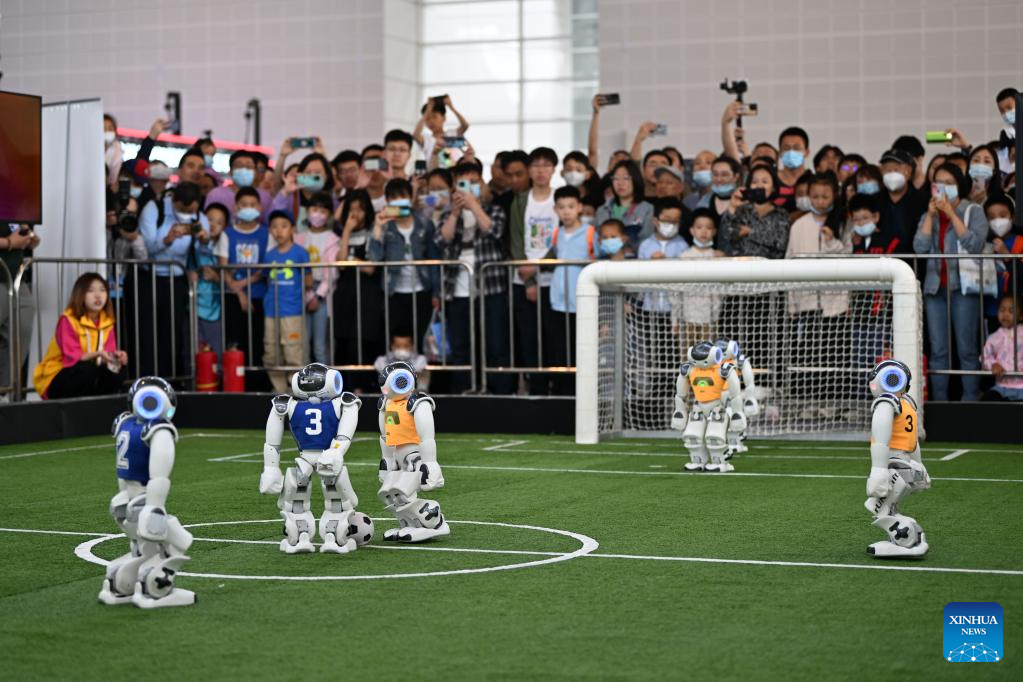 Audience watch a robot football game during the seventh World Intelligence Congress (WIC) in north China's Tianjin, May 20, 2023. (Xinhua/Li Ran)
BEIJING, May 25 (Xinhua) -- AI, as a strategic emerging technology, is increasingly becoming a significant driving force for technological innovation, industrial upgrading, and productivity improvement. Driving the transformation and upgrading of manufacturing through technological innovation is the essential pathway for China's high-quality economic development, said guest speakers at the 7th World Intelligence Conference (WIC) held in north China's Tianjin .
-- Intelligent manufacturing accumulates new momentum
Currently, the global manufacturing industry is rapidly stepping into the digital and intelligent era, and developing intelligent manufacturing is an important means to improve the quality and efficiency of the manufacturing industry, experts at the conference stated. From the digitalization and virtualization of manufacturing equipment to intelligent processes and data-driven quality control with real-time monitoring, to digital innovation in product design and user experience, such new changes and highlights were evident throughout WIC.
The enterprise digital platform of Inspur Haiyue was particularly noticeable at the exhibition area of WIC. Reportedly, the platform promotes the digital transformation of manufacturing from both business management and production operation perspectives. The intelligent factory manufacturing operation management system built on this basis can improve production efficiency by 25 percent.
"As the digital transformation of businesses continues to deepen, intelligent manufacturing is the core of digitizing the manufacturing industry, and the extensive application of industrial software is key," said Wei Daisen, Vice President of Inspur Group and General Manager of Inspur Digital Enterprise Investment Limited.
Accelerating innovation breakthroughs in the field of intelligent manufacturing is an important driving force for achieving high-quality economic development and stimulating new economic momentum. Conference experts believe that in the future, we should continuously increase the supply of intelligent manufacturing, enrich application scenarios, provide support in all aspects, and implement relevant incentive measures. By enhancing the vitality of innovation carriers, guiding industrial digital transformation, speeding up the transformation of intelligent manufacturing innovation achievements, encouraging enterprises to increase technological transformation investments, promoting new intelligent manufacturing technologies, and strengthening the construction of standardization systems.
-- Industrial internet shapes future factories
At the 7th WIC, the '5G+ Future Factory' exhibition area simulated the entire process of automated production in a smart factory, showcasing the successful application of integrated solutions for automation, 5G, and informatization.
It is learned that the industrial internet generally includes four major functional systems: network, platform, data, and security. It is an important medium for achieving comprehensive connectivity between humans, machines, and things, and it is the foundation for high-quality development in manufacturing.
Jin Bingyi, Technical Director of the China Unicom (Tianjin) Industrial Internet Research Institute, explained that in the digital age, 5G factories are extending application scenarios in the field of industrial internet and are scaling up to maximize the value of industrial data, providing a basis for precise business decisions, and aiding industrial transformation, upgrade and high-quality development of the digital economy.
According to data from the Ministry of Industry and Information Technology(MIIT), as of March this year, the total number of 5G base stations in our country reached 2.646 million, accounting for 24.3 percent of the total mobile base stations. 5G applications have covered 52 major categories of the national economy, with large-scale applications of mobile Internet of Things achieved in digital city construction, smart transportation, mobile payment, and other areas.
"Accelerating the innovative application of industrial big data, comprehensively promoting the application of intelligent production lines, digital workshops, and smart factories, and accelerating the transformation of industry-level industrial clouds to industrial internet platforms are the key pathways for the development of the industrial internet," said the aforementioned expert.
-- Human-machine collaboration benefits smart healthcare
At WIC this year, brain-computer interaction and human-machine integration became a major focus. The world's first neuro-controlled exoskeleton system 'Shen Gong - Shen Jia' attracted much attention. Brain-computer interface technology is the "information highway" for communication between the human brain and the external world and is a key core technology of the new generation of human-computer interaction and hybrid intelligence.
The new generation of artificial intelligence, with its advantages of efficiently and precisely handling massive multi-element, multi-dimensional, and multi-modal data, can effectively solve basic scientific problems in interdisciplinary fields and engineering science difficulties under complex scenarios. In the biomedical field, artificial intelligence is accelerating the trial process of new drug development and effectively supporting scientific image analysis and telemedicine.
Experts explained that in 2020, after launching a new generation of AI projects and development plans, China immediately began to establish major special projects in brain science and brain-like computing, with the diagnosis and treatment of major brain diseases, brain-like computing, and brain-computer intelligence research as two wings, through basic disciplines, technological progress, and cross-border collaboration to expand human perception vision.
(Edited by Bao Nuomin with Xinhua Silk Road, baonuomin@xinhua.org)