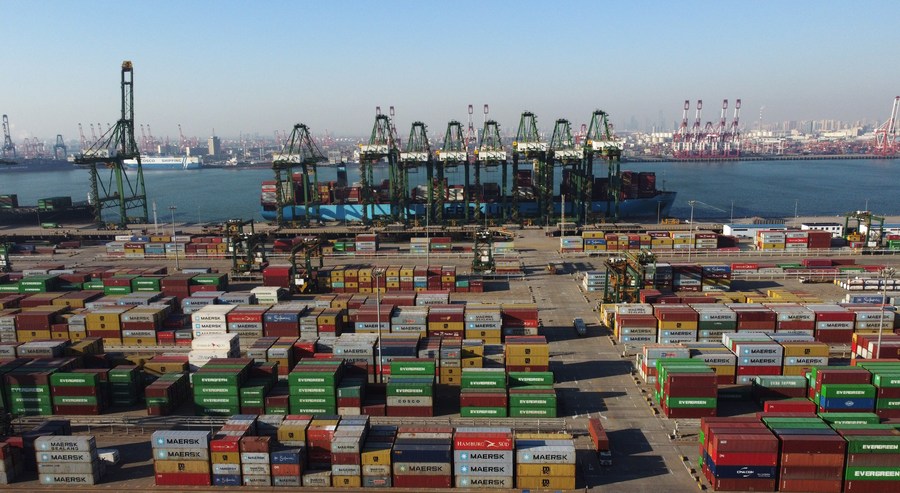 Aerial photo taken on Dec. 18, 2021 shows a container ship by the Pacific international container terminal at the Tianjin Port of north China's Tianjin Municipality. (Xinhua/Zhao Zishuo)
BEIJING, Feb. 24 (Xinhua) -- Australian multinational mining giant BHP Billiton Ltd. (BHP) has predicted in its recently-released operating bulletin that with the expected economic recovery in China this year, the global demand for commodities will be boosted, reported Shanghai Securities News Thursday.
China will be a force of stability on the demand side of commodities, said BHP CEO Mike Henry, noting that with the country's pro-growth policies, China's economic recovery is expected to be further consolidated in the first half of 2023, and the country's steel output might exceed 1 billion tonnes for the fifth year in a row.
China is the world's largest consumer of metals, and BHP is full of confidence in the country's economic recovery prospect which is definitely favorable for commodities markets, stated Mike Henry, adding that the stronger demands in China and India will provide a stable balance for global trade with some other major nations expericing economic headwinds.
(Edited by Gu Shanshan with Xinhua Silk Road, gushanshan.1987@163.com)