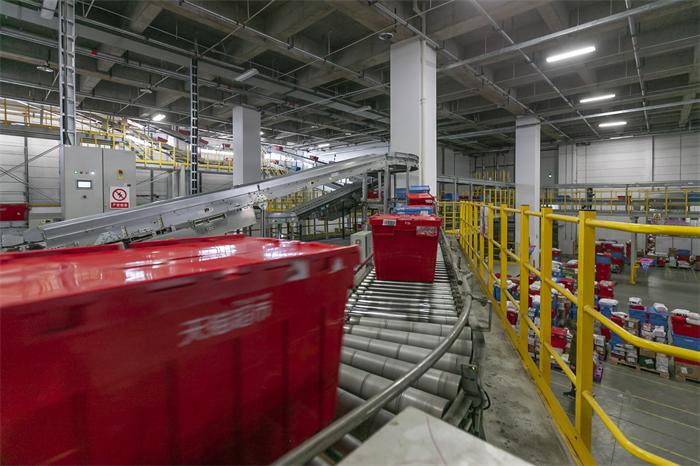 Photo taken on March 4, 2020 shows the automatic assembly line inside the logistic warehouse of Cainiao Network in the Jiading District of Shanghai, east China. (Photo by Wang Xiang/Xinhua)
BEIJING, Nov. 16 (Xinhua) -- With the rapid development of cross-border e-commerce in Brazil in recent years, a group of Chinese intelligent logistics enterprises represented by Alibaba's logistics arm Cainiao Network (Cainiao) are expanding express delivery networks in Brazil to deliver goods to Brazilian consumers in a short time.
So far, Cainiao's logistics network has covered more than 1,000 cities in Brazil. Local consumers can receive goods delivered by Cainiao within two to three days on average after placing orders, with one-day delivery in big cities like Sao Paulo.
For example, Brazilian college student Sonia Ferraz bought a Harry Potter robe on the website of Piticas, the largest franchise focused on licensed products in Latin America. Only two days later, she received the parcel delivered by Cainiao.
People used to complain about the inefficiency of Brazil's logistics, which led to long delivery time. But now, with Chinese logistics companies providing services, consumers can receive goods purchased online within a few days after placing orders, said Sonia.
Piticas chooses Cainiao as one of the logistics service providers for its online sales business.
Piticas looks forward to cooperating with Cainiao to utilize its smart lockers, which gives customers another option for pick-up, said Vinicius Rossetti, CEO of Piticas, adding that Piticas will also work with Cainiao in imports from China to further improve the efficiency of its supply chain.
Liu Xinyang in charge of Cainiao Export Logistics said that Cainiao plans to build nine distribution centers in seven states of Brazil over the next three years.
The company will also establish 1,000 sets of intelligent lockers in 10 Brazilian cities for cross-border and intra-city deliveries of packages. (Edited by Su Dan with Xinhua Silk Road, sudan@xinhua.org)