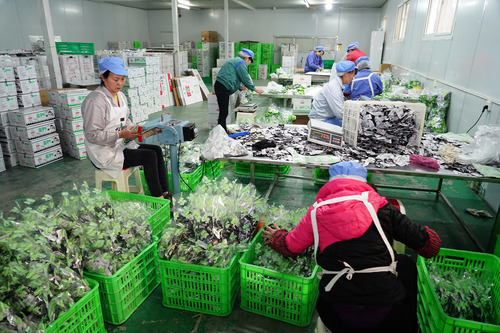 Workers pack products at a konjac processing company Dec. 3, 2019.(Xinhua/Shao Rui)
BEIJING, Sept. 22 (Xinhua) -- About 27.5 tonnes of konjac gum produced by Hubei Yizhi Konjac Biotechnology (ESKONJAC) went through supervision by Yichang Customs affiliated to Wuhan Customs on Wednesday, and will be shipped overseas after packing, reported Chinanews.com.
Statistics showed, from January to August this year, konjac products produced by the company were exported to 35 countries and regions worldwide, including Japan, the Philippines, and Australia, with an export value of 140 million yuan.
As a leading enterprise in China's konjac industry, ESKONJAC produces nearly 300 varieties of konjac products. Wu Ping, chairman of the company, said that last year the company's export volume hit 30 million U.S. dollars, which directly drove income growth of 40,000 local farmers.
Wu Ping introduced that with the rapid growth of product orders, the demand for raw materials has increased sharply, and local konjac raw materials were unable to meet production. The company was faced with serious shortage of raw materials.
After learning demands of the enterprise, Wuhan Customs quickly responded and completed the risk assessment of Indonesian dried konjac slices import in the shortest time. On September 21, the first batch of 55 tonnes of dried konjac from Indonesia was sent to the company's factory.
According to Wu Ping, in the next two months, the company will continue to import about 300 tonnes of raw materials.
Konjac industry is one of the key agricultural industrial in Hubei province. Since the beginning of this year, Wuhan Customs has established a point-to-point contact mechanism with konjac production and processing enterprises in the province to help enterprises better make use of various convenient measures for exporting agricultural products.
(Edited by Bao Nuomin with Xinhua Silk Road, baonuomin@xinhua.org)