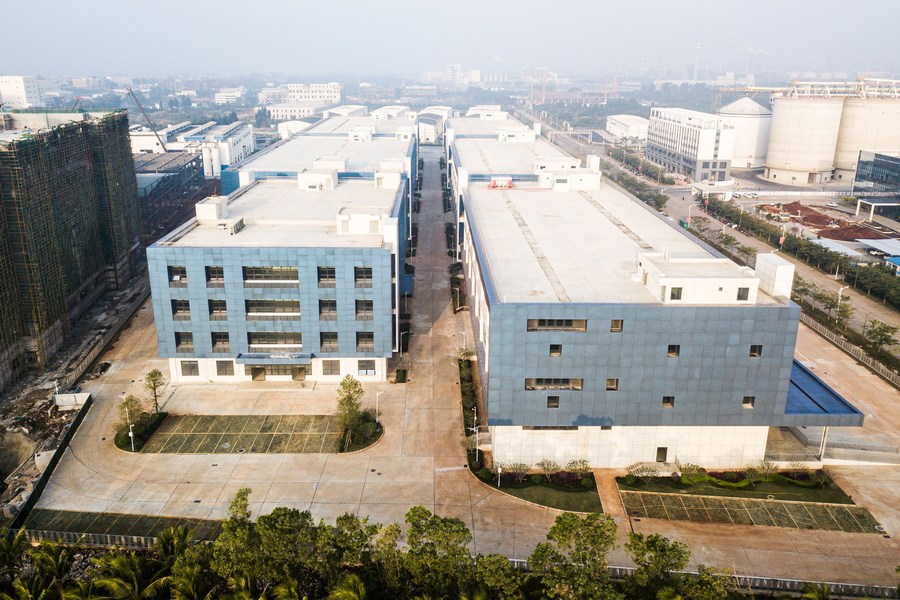 Aerial photo taken on Jan. 2, 2022 shows a factory building and overseas warehouse project at the Yangpu Bonded Port Area in the Yangpu Economic Development Zone, south China's Hainan Province. (Xinhua/Pu Xiaoxu)
BEIJING, May 19 (Xinhua) -- Nearly 70 enterprises in Ningbo, east China's Zhejiang Province, have established 209 overseas warehouses in 23 countries and regions across the globe, covering a total area of 2.93 million square meters, reported Chinanews.com on Wednesday.
Since the beginning of this year, Ningbo firms have been making increasing efforts to engage in new types of operation such as establishing overseas warehouses, looking for new business opportunities despite the influence of COVID-19 epidemic. As an important component of modern storage and logistics system, overseas warehouses should promote global market expansion of Ningbo, a main front of cross-border e-commerce development in China.
As exporting firms are able to transport their goods to overseas warehouses in advance, overseas consumers can therefore receive their order from a nearby warehouse. In this sense, the overseas warehouse model can help smooth the production and delivery circle and avoid the shutdowns and transportation interruptions caused by unexpected reasons including the epidemic, working as a regulator or a buffer in stabilizing the global trade supply chain, said Lu Chenze, an official with Ningbo Customs.
The Ningbo-based ergonomics product manufacturer Loctek has shipped products worth over 200 million yuan (about 29.56 million U.S. dollars) to the European and North American markets through the cross-border e-commerce overseas warehouse model from January to April this year. The company has established around 20 overseas warehouses in the United States, Europe and Japan, covering a total area of 320,000 square meters, said Ji Xiaofeng, a representative from the company.
Ningbo Discovery International Logistics Co., Ltd. is also proactively laying out its overseas warehouses network. Serving around 200 medium- and small-sized foreign trade companies, the company's public overseas warehouses handle 20,000 to 30,000 orders each day, according to Li Luanluan, deputy general manager of the company. Chinese enterprises are showing increasing interest in overseas warehouses, Li noted.
(Edited by Yu Huichen with Xinhua Silk Road, yhc0267@163.com)