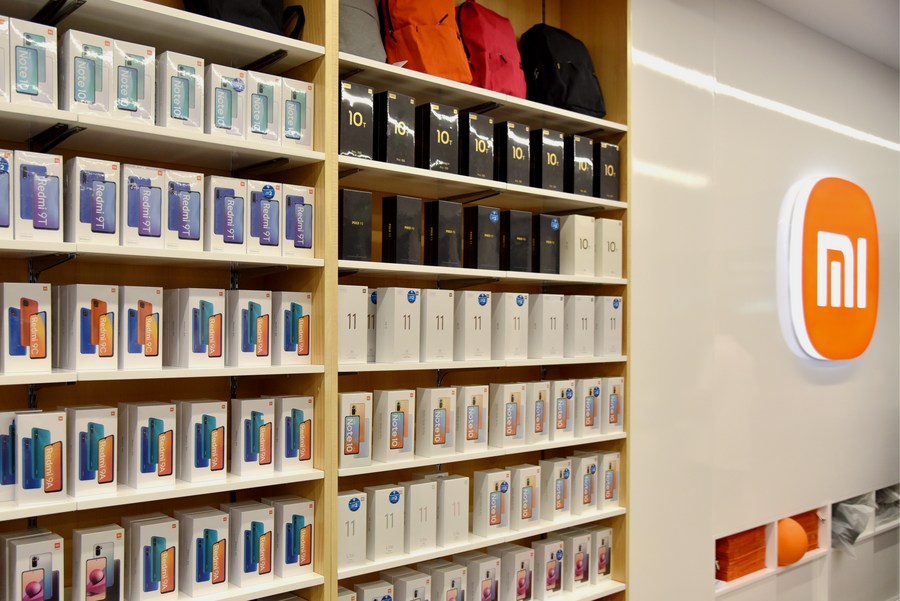 Photo taken on June 4, 2021 shows the interior of the Mi-store in the Electron Commercial Center in Riyadh, Saudi Arabia. (Xinhua/Hu Guan)
BEIJING, May 12 (Xinhua) -- Chinese brands have mulled efforts in expanding overseas market to carry out global businesses in recent years, experts told People's Daily Online during an interview.
Backed by the surge of new technologies such as artificial intelligence (AI) and digital tools, Chinese enterprises are gaining overseas market shares by providing localized and customized products and services to explore added value, making brand economy a new driving force for high-quality development.
In April this year, Hisense launched its color TV base with advanced manufacturing facilities and intelligent operation and control system in Jakarta, the capital of Indonesia, which marks an epitome of Chinese brands' globalization.
-- Towards mid- and high-end markets
For years, China has been labeled the stereotype as a "big factory" to produce and process products for the global market.
However, increasing number of independent Chinese brands are currently striding forward towards mid- and high-end markets to reach foreign customers.
"In the beginning, when we were planning for the overseas market, a foreign enterprise came to us and proposed exports with terms of original equipment manufacturer (OEM). We could earn 3 to 5 percent profits but hardly create our own brand overseas," said an official representative of Haier Smart Home.
The company's persistence finally paid off. According to the official representative, in 2021, Haier Smart Home's overseas business reported revenue reached 113.73 billion yuan while operating profit amounted to 5.93 billion yuan, up 13 percent and 48.1 percent year on year respectively.
In addition to the home appliance sector, China's new energy vehicle (NEV) brands are also in the spotlight of the global automobile industry with advantages in saving energy and costs and reducing pollution.
SAIC MAXUS, a NEV manufacturer, is racing against other competitive brands in the European market. As of March this year, its cumulative sales volume has exceeded 150,000 units in 51 countries and regions, said an official representative of the enterprise.
Currently, Chinese brands are stepping up efforts in developing their own distinctive features with cultural elements and shifting from low- to mid- and high-end tracks to meet the customers' needs, said Pan Helin, co-director and researcher of the Digital Economy and Financial Innovation Research Center at Zhejiang University's International Business School.
-- Supported by digital technologies
In October 2021, Faw Jiefang Automotive Company rolled out its online Internet of Vehicles (IoV) platform for trial operation in overseas market.
The platform collected data from users' APP and website to achieve digital transformation and management of production, sales and services, which posted a strong performance in satisfying overseas customers' requests.
In 2021, the company maintained sound growth momentum in production and sales with a total of 15,000 units exported overseas, rocketing up nearly 150 percent year on year.
China has formulated preferential policies and created a sound environment for digital economy, which helps Chinese brands stabilize the industrial and supply chain worldwide and gain popularity on overseas social media, said Liang Wei, assistant researcher at the Institute of Circulation and Consumption of the Chinese Academy of International Trade and Economic Cooperation (CAITEC).
Genki Forest, an innovative beverage company, also built their own online portal website and cross-border e-commerce channels to get access to more overseas customers. Up to now, the company have launched more than 20 new products and entered local markets of more than 40 countries and regions.
-- Brand economy as the new driving force for economic growth
Nowadays, increasing numbers of Chinese brands are found in overseas consumers' shopping carts. From OEM to brand export, the booming Chinese brand economy has become a new driving force for high-quality economic growth.
"So far we have set up 55 overseas companies and offices, 20 research institutes, and 29 industrial parks and production bases," said an official representative of Hisense.
In 2021, the company's overseas revenue grew by 32 percent year on year, accounting for 42 percent of its overall operation revenue, with over 80 percent contributed by its independent brands.
OPPO's shipment to Europe surged 78 percent year on year in 2021, making the brand the fourth largest smartphone producer in European market. OPPO has technology patent plans for over 40 countries and regions, involving communications, imaging, AI and rapid charging.
As of the first quarter of this year, the company has applied for more than 77,000 patents worldwide and authorized more than 38,000 patents globally. Among them, invention patent applications accounted for more than 90 percent, said an official representative of OPPO.
Sound industrial and supply chain as well as digital technologies and gradual improvement of supporting infrastructure altogether form the stepping stone to pave the way for Chinese brands' global development, said Zhu Keli, executive director of the China Information Industry Association and president of the China Institute of New Economy.
(Edited by Tian Shenyoujia with Xinhua Silk Road, tianshenyoga0524@163.com)