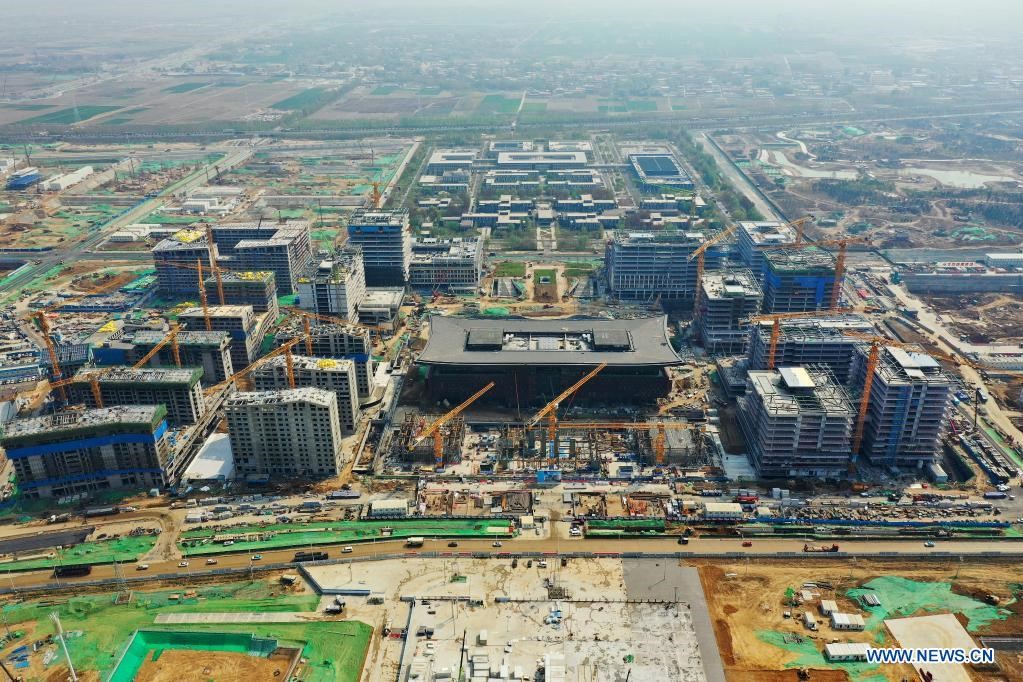 Aerial photo shows a construction site of business service center project in Rongdong area of Xiongan New Area, north China's Hebei Province, April 8, 2021. (Xinhua/Mu Yu)
BEIJING, Jan. 13 (Xinhua) -- A strategic cooperation framework agreement was signed by Xiongan New Area and China Huaneng Group Co., Ltd. (China Huaneng), reported Shanghai Securities News Tuesday.
The newly signed agreement marks the official launch of China Huaneng's headquarters project in Xiongan New Area.
As one of the first enterprises engaged in relocating their headquarters, China Huaneng took the lead in the construction of headquarters projects in Xiongan New Area, said an official of Xiongan New Area management committee.
China Huaneng will continue to accelerate the layout of comprehensive energy services and build an intensive and integrated urban comprehensive energy supply system to provide reliable and clean energy for building a green and smart new city in Xiongan New Area.
In addition, China Huaneng will also focus on major strategies and launch a series of innovation platforms to transform Xiongan New Area into an energy and power innovation highland in China.
(Edited by Zhang Yaru with Xinhua Silk Road, mcxmzyr2@163.com)