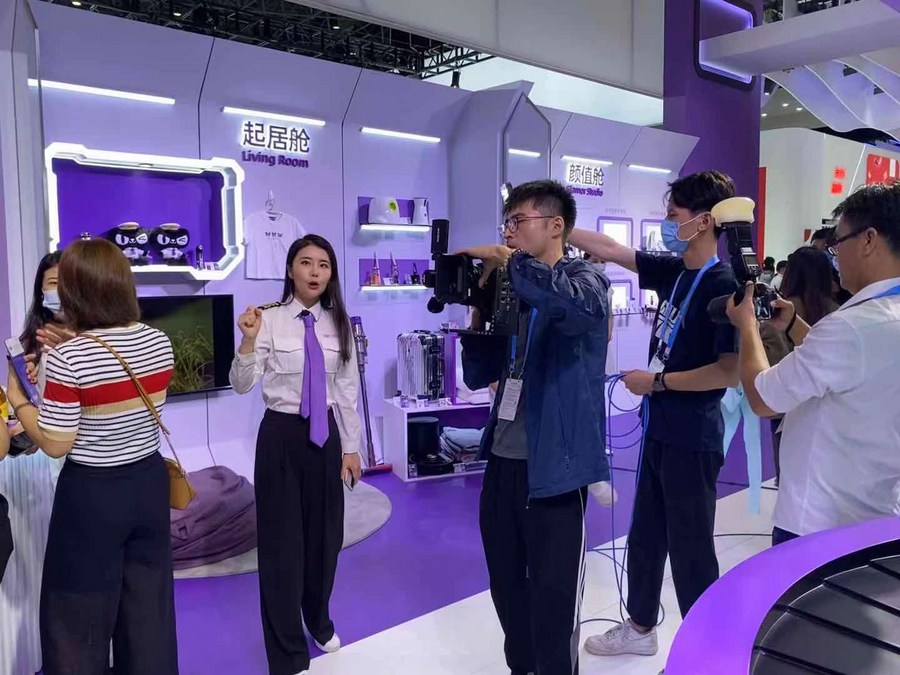 An e-commerce livestreaming anchor is introducing products to viewers at the first China International Consumer Products Expo in Haikou, capital of south China's Hainan Province, May 8, 2021. (Xinhua/Xu Ruiqing)
BEIJING, Dec. 23 (Xinhua) -- At the beginning of 2021, China's authorities issued an implementation plan for accelerating incubation of new consumption. The new consumption patterns like online shopping and mobile payment have become an engine for China's new development pattern.
Featured with network, digitalization and intelligence when compared with traditional consumption, the new consumption has developed rapidly this year.
Data from the National Bureau of Statistics showed that from January to November 2021, China's online retails totaled 11,874.9 billion yuan with a year-on-year increase of 15.4 percent, strongly boosting the high-quality economic development.
-- Green consumption becomes a new fashion
Under the targets of carbon peaking and carbon neutrality, "low carbon" and "emission reduction" become a new trend in consumption.
For example, consumers prefer new energy vehicles when buying cars, order small dishes and avoid using disposable dishware when eating out, use the home appliances like energy-saving light bulbs and water-saving stools.
"I used to lose receipts when shopping. Now the electronic receipts are more convenient and environmental-friendly that can be used to exchange green energy on the App", said Ms. Chen, a citizen in Hangzhou.
Intime Department Store, a department store in China, organized the first green consumption festival during the Double Eleven shopping spree. By recycling empty cosmetics bottles, replacing disposable packages with shoppers' own bags, using electronic receipts for offline shopping, etc., the store called on citizens to adopt low-carbon, environmental-friendly and green consumption.

As a foundation of high-quality development, the green consumption is driving and changing the production and consumption behaviors.
This year, Tmall for the first time organized a "green home appliances" event during the Double Eleven shopping spree. Nearly 40 home appliance brands like Haier, Midea and Hisense took the "green energy" as an incentive to encourage the purchase of "green home appliances" that meet the first-level national energy-efficiency standard.
Data from Suning showed that during the shopping spree, the number of old-for-new exchanges increased by 74 percent, and the sales volume of the new first-level national energy-efficiency air conditions grew by 69 percent.
Meanwhile, JD.com, an e-commerce giant in China, offered green recyclable packaging express service, which greatly reduced disposable packaging waste.
Long Guoqiang, vice president of Development Research Center of the State Council, said that the green transition of consumption reflects people's need for a better environment as their income levels rise, and such trend will bring comprehensive and profound changes to the global social and economic development.
-- Scenario experience indicates a broad space of service consumption
With the accelerating pace of domestic consumption upgrading, the service consumption has been increasing dramatically. In particular, the contactless services like Internet medical treatment and online audio and video entertainment have witnessed exponential growth.
More than buying products, consumers pay more attention on the added value of deeper dimensions and extents such as consumption experience and atmosphere.
Lv Yanling, deputy director of Consumption Guidance Department of China Consumers Association, said that in the scenario-based consumption, consumers can have an immersive experience that helps them quickly and accurately find their consumption needs.
For many people, new consumption or upgraded consumption means better and cheaper goods that satisfy individual emotional needs.
"Chali has so far sold 900 million packages of tea. The process of consumption is in fact an expression of personal value, and closely related to one's cultural and spiritual needs. This is what we care in order to meet consumers' needs," said Zheng Xin, vice president of Chali Group.
Li Wenjun, founder and CEO of China's water appliance product brand Miss Xi, said that the lifestyle of new consumers has changed. For the home appliances, in the past the cookware and tableware were stored in the kitchen, but now many families have the design of an open kitchen that needs to involve the scenarios of food handling, cooking, drinking, etc. in the living room. In addition, as the brand confidence improves significantly, consumers will take more account of the value and practicality of products, and they will make pursuit of products to solve practical problems in the life scene.
Chi Fulin, director of China Institute for Reform and Development, believed that China is at a crucial stage of consumption structure upgrading. In the next one or two decades, the consumption demand of the Chinese people for services like medical care, health, tourism, vocational education, cultural and information industry will continue to expand.
-- Consumption drives the expansion of international cooperation
From the Canton Fair and the China International Import Expo to the China International Fair for Trade in Services and the China International Consumer Products Expo, China opens its door even wider to show its willingness and perspective of sharing opportunities with all.
In May 2021, China successfully held the first China International Consumer Products Expo that attracted 1,505 enterprises and 2,628 consumer brands from about 70 countries and regions. Over 550 newly released products were unveiled at the expo and more than 30,000 purchasers and professional visitors participated the event, indicating the great attractiveness of China's new consumer products market.
China's market has turned out to be a "wonderland of opportunities" for worldwide brands.
"The Chinese consumers have a strong desire for a better life and a strong need of high-quality consumption. In such a favorable context, Johnson & Johnson is quite confident in resuming out high-quality development in China," said Wang Yi, president of Johnson & Johnson, China.
In addition to the foreign boutique products, the Chinese local products and time-honored brands were exhibited in the provincial and regional exhibition halls at the expo. It serves as a platform for overseas fine products to get access to the Chinese market, and creates business opportunities to sell the best Chinese consumer products to the world.
Statistics showed that the expo totally organized over 130 activities like themed forums, new products releases, procurement matchmaking, industrial promotion and marketing. It recorded a total intended transaction amount of 103.1 million yuan and a contractual amount of 1,535.5 million yuan.
Experts pointed that in the future, the expo will continue to focus on the advanced, top, special-featured consumer products, further improve the quality of exhibition brands and the internationalization level, and increase the number of debuts and new exhibitions, and thus become a major platform for exhibition and transaction of the world top consumer products.
(Edited by Bao Nuomin with Xinhua Silk Road, baonuomin@xinhua.org)