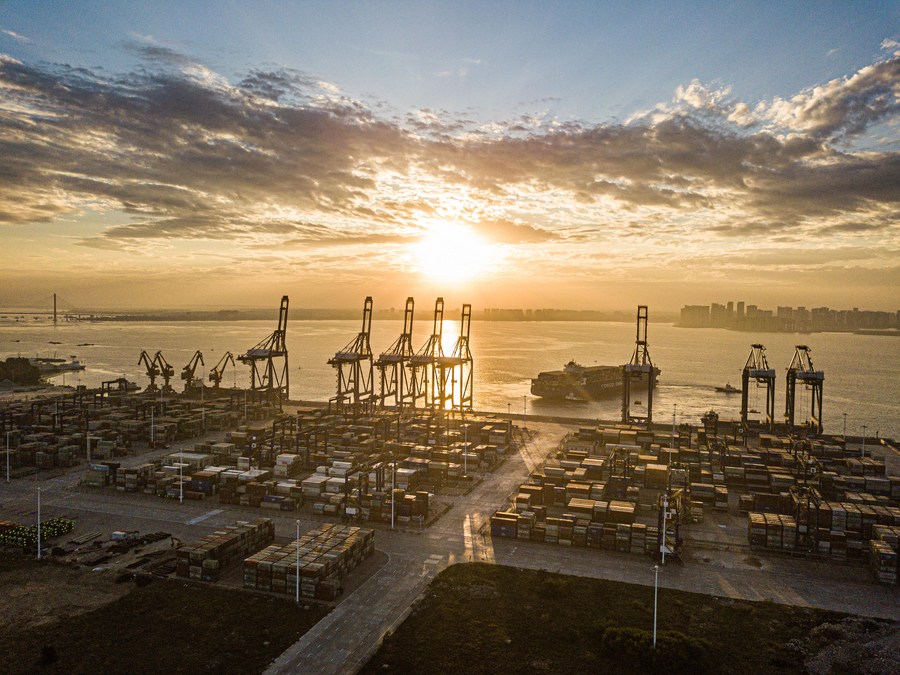 Aerial photo taken on Dec. 5, 2021 shows the sunrise scenery of the Yangpu international container port at Yangpu economic development zone in south China's Hainan Province. (Xinhua/Pu Xiaoxu)
BEIJING, Dec. 22 (Xinhua) -- Establishing free trade zones (FTZs) is one of China's key measures to promote reform and opening-up in the new era. With 21 regions in the country setting up pilot FTZs since 2013, China's nationwide innovative efforts in FTZ construction have extended to multiple sectors.
The year 2021 witnesses Chinese FTZs continue to provide enterprises with inclusive cooperation mechanism and diversified communication channels, making innovative achievements in trade and investment facilitation, financial services for real economy, state-owned enterprises reform and ecological environment protection. With a number of world-leading industry clusters formed, Chinese FTZs are making significant contributions to building an open world economy and a community with a shared future for mankind.
-- Continuous improvement in constructing FTZs
In its plan on promoting business development during the 14th Five-Year Plan period (2021-2025), the Ministry of Commerce (MOC) emphasizes on encouraging FTZs to cultivate leading industries with distinctive features, increase supportive efforts for financial innovation, and strengthen development of strategic emerging industries and modern service industries.
Currently, the development of China's FTZs has entered a new stage featured by industry integration and innovation promotion, when further efforts in deepening institutional reform and cultivating leading industries will promote both platform construction and industrial development, according to Zhu Keli, a researcher of China Institute of New Economy.
Through the year 2021, major projects of Chinese FTZs have been focusing on promoting the development of leading industries.
South China's Hainan Free Trade Port has held four major events this year, where 242 projects were signed with a total investment of over 114 billion yuan. The projects cover industrial sectors including tourism, modern service and high-tech.
As of mid-August 2021, the Lingang New Area of Shanghai FTZ had altogether signed 765 key projects involving a total investment of 447.8 billion yuan. With the cutting-edge high-quality foreign investment projects settling down in the FTZ, advantageous local industries are expected to grow global publicity.
China's service trade development has also maintained rapid growth this year. Statistics shows that seven among the 12 major service trade sectors have seen an import growth rate of over 10 percent through the first three quarters of 2021, marking the cumulative growth rate of China's service import turning positive for the first time since the outbreak of COVID-19 pandemic.
In a bid to further optimize the service trade development environment, the MOC is working with relevant departments to formulate a negative list for cross-border service trade in FTZs, aiming to promote service trade liberalization and high-level institutional opening-up.
-- Innovation results seen in multiple sectors
FTZs play an important role in formulating new forms of trade and promoting international cooperation in trade and investment.
Chinese FTZs are serving as new platforms for the country's opening-up, with a series of institutional innovation achievements providing beneficial environments for industrial globalization, said Wang Xiaohong, deputy director of the department of information at China Center for International Economic Exchange.
The China (Guangxi) Pilot FTZ unveiled 40 institutional innovation achievements in November, covering transformation of government functions, investment reform, trade transformation and upgrading, custom clearance innovation, financial opening-up and innovative development of modern service industry. Highlighting industrial development of the region and the participation of market entities in institutional innovation, the achievements are expected to be replicated to greater area.
Targeted institutional innovation guided by industrial development will generate beneficial conditions for regions to cultivate competitive industries and drive a new round of industrial agglomeration and large-scale development, said Zhang Jianping, director of Regional Economy Research Center of Chinese Academy of International Trade and Economic Cooperation under the MOC.
The Dalian area of northeast China's Liaoning FTZ had released 15 policies earlier this year to support the construction of an industrial innovation zone, focusing on constructing technological innovation platform, cultivating diversified innovative subjects, innovative talent training, as well as breakthroughs in key technology and the transformation of scientific and technological achievements.
The year 2021 also witnesses Chinese FTZs making positive progress in financial innovation. For instance, the Hefei area of east China's Anhui FTZ launched the province's first loan service product specifically designed for FTZs. By the end of July this year, the financial product had supported 16 small and micro technology enterprises with accumulated funds of 30.6 million yuan.
-- Actively respond to RCEP, promoting high-level opening-up
As the Regional Comprehensive Economic Partnership (RCEP) agreement is expected to take effect on Jan. 1, 2022, the MOC will make steady progress in promoting the implementation of the agreement, encouraging local governments to actively respond to the RCEP based on their own characters and advantages, according to MOC spokesperson Shu Jueting.
Southwest China's Yunnan FTZ issued a plan earlier this year to guide the FTZ's efforts in seizing the opportunities brought about by the RCEP. The FTZ also released specific policies to expand the scale and channel for exporting high-quality agricultural products, and to promote the construction of major cross-border electricity transmission lines and networks by establishing a cross-border electricity cooperation and trade platform for South and Southeast Asian countries.
Xiamen Customs recently started official trials of implementing RCEP measures with two comprehensive bonded zones of Haicang Port and Xiangyu in southeast China's Fujian FTZ. With the measures being implemented, import firms in the two bonded zones are expected to enjoy more smooth custom clearance procedures than before, since they would be able to correct minor mistakes in their custom clearance documents instead of submitting the documents all over again.
Expert says that the implementation of RCEP will make multidimensional difference in aspects including trade, market openness and institutional rules. Chinese regions could accelerate their course in high-level opening-up by releasing targeted policies for more efficiently utilizing the RCEP rules.
The RCEP is a good example of multilateralism, said Kin Phea, director-general of the International Relations Institute at the Royal Academy of Cambodia, noting that RCEP will play a very important role in regional and global economic recovery and RCEP countries will greatly benefit from this important trade deal and can diversify their productions and markets.
"The trade deal will be a driving force of foreign direct investment to all RCEP countries, and the world's economy will also be boosted by this agreement," he added.
(Edited by Yu Huichen with Xinhua Silk Road, yhc0267@163.com)