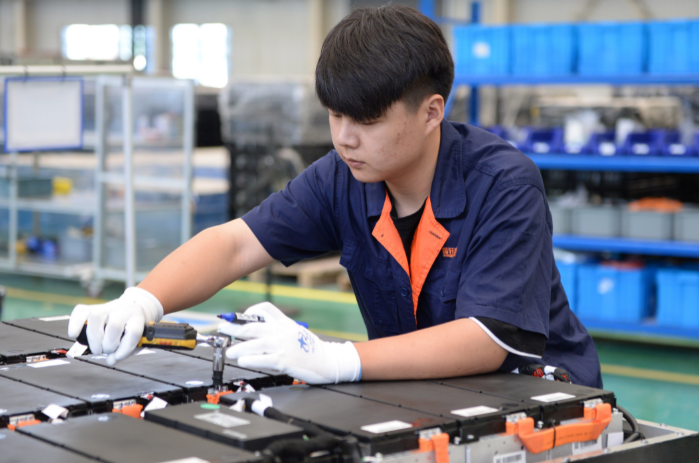 A worker is busy at a battery company plant of Gotion High-tech Co., Ltd. in Hefei, east China's Anhui Province, June 19, 2020. (Xinhua/Huang Bohan)
BEIJING, Dec. 21 (Xinhua) -- Chinese battery cell manufacturer Gotion High-tech Co., Ltd. (002074.SZ) announced on late Monday that its overseas wholly-owned company Gotion Inc. and a U.S. auto giant have concluded an auto battery supply agreement.
Under the agreement, the U.S. company, which is not named in Gotian High-tech's announcement, is expected to purchase lithium iron phosphate (LFP) batteries from Gotion Hi-Tech from 2023 to 2028, in a total amount of not less than 200GWh. The two sides also plan to produce the LFP batteries locally in the United States and discuss the feasibility of setting up a joint venture in the country.
According to the Shenzhen-listed company's filing to the stock exchange, the above agreement will have a limited impact on its performance in 2021, but will contribute a lot to its performance in coming years.
From January to November this year, the total battery installed capacity of Gotion Hi-Tech stood at 6.6 GWh, ranking fourth in China, with a market share of 5.1 percent. As of October this year, its share in the global market increased to 2.6 percent from 1.6 percent in the same period last year, according to the data of China Automotive Power Battery Industry Innovation Alliance. (Edited by Zhang Jian, Hu Pingchao with Xinhua Silk Road, hupingchao@xinhua.org)