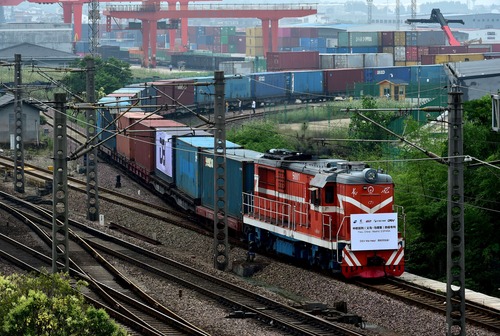 A China-Europe freight train carrying medical supplies bound for Madrid of Spain departs the city of Yiwu, east China's Zhejiang Province, June 5, 2020. (Photo by Lyu Bin/Xinhua)
BEIJING, Sept. 28 (Xinhua) – Yiwu, China's small commodity hub in eastern Zhejiang Province on Monday opened a new China-Europe freight train service linking the city with Madrid in Spain, reported the Xinhua-run cnstock.com Monday.
Loading with 100 containers of exports goods such as small commodities, solar cells, tablet computers, and auto parts, the freight train will travel 17 days to Madrid after passing through the Alataw Pass in northwest China's Xinjiang Uygur Autonomous Region.
The freight train service was jointly developed by the Chinese railway departments, the China-Europe freight train Yiwu station operator, and the international logistics platform operated by small commodities traders in Yiwu.
Since the beginning of this year, Yiwu has operated 990 China-Europe freight trains, transporting a total of 81,756 TEUs of goods, a year-on-year increase of 59.8 percent. As of September 21, the operation volume of the freight train in Yiwu has broken through the total volume of 2020, realizing the double growth of the number of operations and the cargo volume transport.
The unique advantages of stability and efficiency of the China-Europe train make it the main logistics bridge and a green channel connecting Eurasia countries. China's railway departments will continue to improve the operation quality and efficiency of the freight trains to benefit better the countries along the train routes and Belt and Road (B&R) countries.
(Edited by Jiang Feifan with Xinhua Silk Road, 346129473@qq.com)