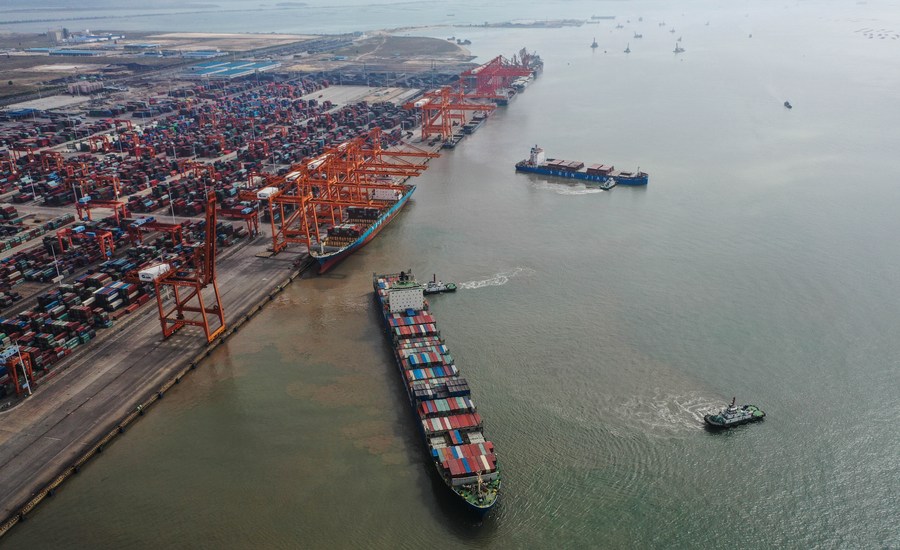 Aerial photo taken on Nov. 19, 2020 shows a cargo ship leaving a berth of the Qinzhou Port in south China's Guangxi Zhuang Autonomous Region. (Xinhua/Zhang Ailin)
BEIJING, Sept. 2 (Xinhua) -- As of August 30, 114 of 120 pilot reform tasks, or 95 percent of the total have been implemented in the pilot free trade zone (FTZ) of south China's Guangxi Zhuang Autonomous Region under a guideline of the FTZ's construction, according to a news briefing held on Monday in Nanning, the capital city of Guangxi.
Nanning Area of Guangxi's pilot FTZ has integrated the customs supervision and clearance services to shorten the customs clearance time from more than 24 hours to less than 4 hours while Qinzhou Port Area carried out container services reform to facilitate the loading efficiency.
These reforms will inject new impetus into the Guangxi Zhuang Autonomous Region to promote the high-quality economic development and invigorate market vitality.
Guangxi's pilot FTZ will help accelerate the establishment of cross-border industrial chain, value chain and supply chain between Guangxi's pilot FTZ and the Association of Southeast Asian Nations (ASEAN), said Yang Chunting, director of the Department of Commerce of Guangxi Zhuang Autonomous Region.
By the end of June, 39,000 enterprises had been set up in Guangxi's Pilot FTZ, with foreign investment utilized totaling 930 million US dollars as well as imports and exports reaching 331.3 billion yuan, official data showed.
(Edited by Tian Shenyoujia with Xinhua Silk Road, tianshenyoga0524@163.com)