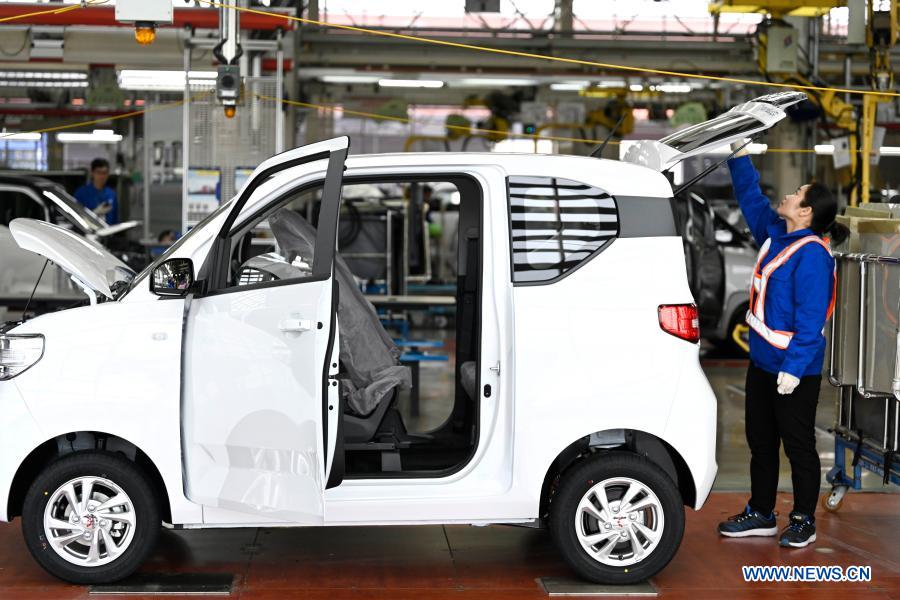 An employee works at a production line of new energy vehicles in Liuzhou, south China's Guangxi Zhuang Autonomous Region, March 8, 2021. (Photo by Li Hanchi/Xinhua)
BEIJING, Aug. 26 (Xinhua) -- China's automobile market run smoothly in 2020, with 25.31 million vehicles sold, decreasing by 1.9 percent year on year but still ranking the first globally for 12 consecutive years, according to an annual report on automobile industry in China released by the Ministry of Industry and Information Technology Equipment Industry Development Center on Thursday.
China's sales of new energy vehicles in 2020 rose by 10.9 percent year on year to 1.367 million, ranking No. 1 in the world for 6 consecutive years compared to 3.07 million vehicles sold globally in an attempt to respond to climate change and optimize the energy structure.
The annual report manifests multiple characteristics of automobile industry such as policy in market, technological innovation and management in a bid to support the decision-making of government and enterprises, said Qu Guochun, an official with MIIT Equipment Industry Development Center.
Due to the impact of Covid-19 pandemic in 2020, the car sales of American, Japanese and German brands in China fell 15.2 percent, 11.5 percent and 18.6 percent year on year to 14.45 million, 4.6 million and 3.27 million respectively, according to the report.
(Edited by Tian Shenyoujia with Xinhua Silk Road, tianshenyoga0524@163.com)