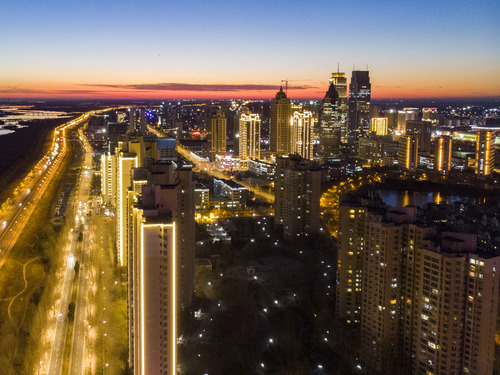 Aerial photo taken on Nov. 13, 2020 shows the night view of the sub-area of Heilongjiangpilot free trade zone (FTZ) in Harbin, northeast China's HeilongjiangProvince. (Xinhua/Zhang Tao)
BEIJING, Aug. 19 (Xinhua) – Three sub-areas of northeast China's Heilongjiang FTZ, respectively in Harbin, Heihe, and Suifenhe, reached a strategic agreement on Wednesday, vowing to jointly explore innovative cooperation in trade with Russia, reported Chinanews.com Wednesday.
According to the agreement, the three areas will work together for in-depth cooperation in the field of international technology transfer and extend international cooperation in the intellectual property sector.
As the northernmost FTZ in China, the Heilongjiang FTZ has witnessed remarkable development in the three sub-areas in the past two years.
The Harbin area, located in the provincial capital, has prioritized the development of the logistics chain by launching projects such as China-Russia industrial park and China-Russia agricultural import and export trading center. At the same time, the area also established China's first cross-border financial service center between China and Russia and made 11 innovations in financial cooperation between the two countries.
Meanwhile, the Suifenhe area of Heilongjiang FTZ has achieved breakthroughs in the cooperation with Russia in energy, mineral, and grain processing industries.
In addition, international talents exchange and cooperation are expected to be further promoted through collaboration among the three areas of the FTZ, according to the administrative committee of Suifenhe area of Heilongjiang FTZ.
(Edited by Jiang Feifan with Xinhua Silk Road, 346129473@qq.com)