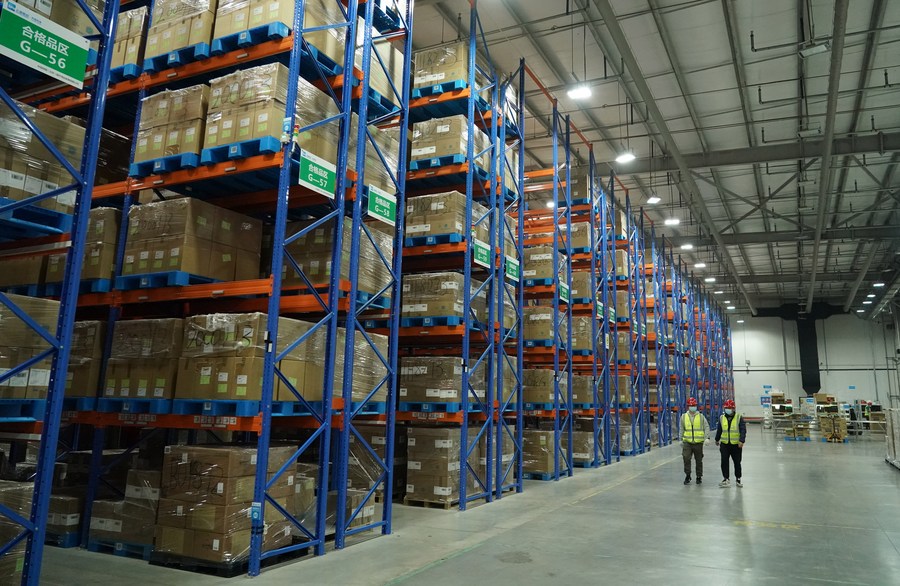 Two workers walk inside a warehouse of imported medicine for cross-border e-commerce in Tianzhu comprehensive bonded zone in Shunyi District, Beijing, capital of China, on March 12, 2021. (Xinhua/Ren Chao)
BEIJING, Aug. 10 (Xinhua) -- China's foreign trade registered positive year-on-year growth for 14 consecutive months from June 2020 to July 2021, reported Securities Daily Monday.
According to data from the General Administration of Customs (GAC) of China, the country's total imports and exports in July this year stood at 3.27 trillion yuan with an increase of 11.5 percent year on year, a month-on-month decrease of 0.8 percent, and an increase of 18.8 percent compared with the same period of 2019.
"Due to the gradual disappearance of the base effect, the year-on-year growth rate of imports and exports in July continued to fall, and was slightly lower than market expectations. But the growth rate remained stable overall," said Tao Jin, deputy director of the macroeconomic research center of the Suning Institute of Finance.
Tao also said that the three major effects supporting China's export growth still exist, that is, the rigid global supply and demand gap, the continuous recovery of the global demand, and China's high supply capacity .
The year-on-year growth rate of imports fell in July, which is consistent with the recent slowdown in the recovery process of the manufacturing industry, said Gao Ruidong, managing director and chief macro economist of Everbright Securities Co., Ltd. (601788.SH).
The spread of the epidemic, the pressure on downstream manufacturing profits and the decline in exports have all affected the capacity expansionof the manufacturing sector, Gao added.
In the first seven months of the year, the imports and exports of private enterprises in China grew the fastest, registering 10.23 trillion yuan with an increase of 31 percent, and accounting for 47.9 percent of the country's total foreign trade, an increase of 2.4 percentage points over the same period last year.
Private enterprises are playing an increasingly important role in foreign trade, noted Tao.
In the short term, the consumer demand for durable goods in the middle and lower reaches of foreign countries has exploded, which is consistent with the layout characteristics of Chinese private enterprises in the industrial chain, and thus supports the sound performance of private enterprises in foreign trade, said Tao.
In the long run, the proportion and status of private enterprises in the national economy will continue to rise, and thus they will increasingly represent the scale and level of China's manufacturing, and bear more domestic and foreign demand, added Tao.
Experts believe that China's imports and exports will still have strong resilience in the third quarter (Q3) of the year.
In July, the average unit price of copper ore and its concentrate imports increased by 83.3 percent year on year and 4.7 percent month on month, that of iron ore and its concentrate imports by 108.6 percent year on year and 7.9 percent month on month, and that of crude oil imports by 88.42 percent year on year and 6.37 percent month on month, according to Sun Yongle, macro analyst from Hongta Securities (601236.SH).
Due to base factors and other reasons, it is expected that subsequent commodity prices will continue to support imports, said Sun.
Gao said that China's exports would maintain strong resilience in Q3, but bear greater pressure in the fourth quarter (Q4) of the year.
On the one hand, Gao noted, the accelerated recovery of European and American economies have posted strong demand for China's industrial exports, and on the other hand, European and American countries have not yet completely got rid of the impact of the pandemic, and together with the new round of disturbances from the COVID-19 Delta variant, there is still a gap in supply and demand for high-tech products.
Therefore, although China's export growth rate has entered a decline range, it will still have a certain degree of resilience in Q3, said Gao, adding that as developed countries in Europe and the United States will gradually approach herd immunity in Q4, the supply chain will gradually recover, and the supply and demand gap will gradually close, which may make China's exports under pressure.
The cumulative amount of China's imports and exports in 2021 will have a strong year-on-year resilience, and there is a high probability that imports and exports for the whole year may respectively achieve double-digit growth, according to Zheng Houcheng, head of the research institute of Yingda Securities Co., Ltd..
(Edited by Wang Yuhang, Gu Shanshan with Xinhua Silk Road, gushanshan.1987@163.com)