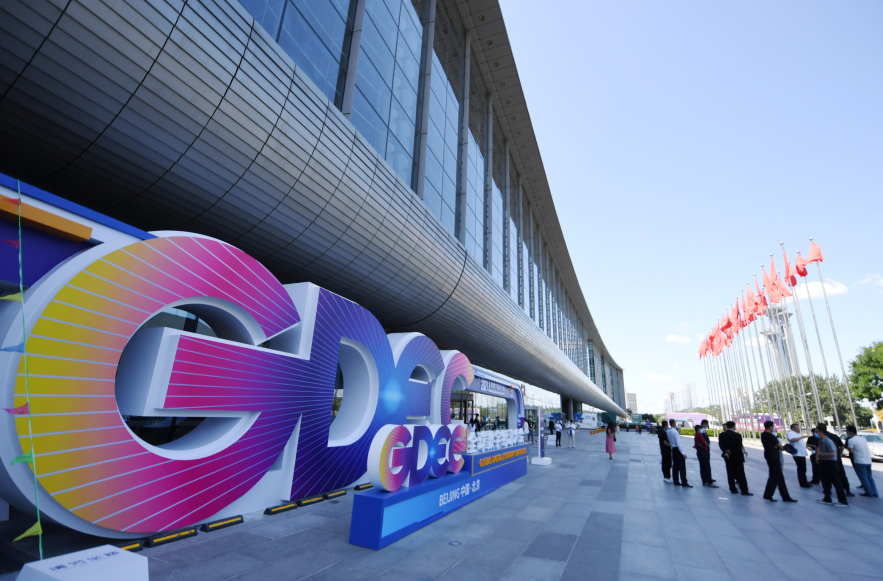 Photo taken on Aug. 2, 2021 shows a view of the 2021 Global Digital Economy Conference in Beijing, capital of China. (Xinhua/Zhang Chenlin)
BEIJING, Aug. 4 (Xinhua) -- Beijing, capital of China, has recently released a blueprint of building itself into a benchmark city of digital economy by 2030.
The blueprint was released Monday at the 2021 Global Digital Economy Conference kicked off in Beijing.
The benchmark city for digital economy needs to target the world's cutting-edge technologies and the strategic needs of future development, so as to fully release the vitality of digital technology innovation, and stimulate the potential of data resources, said the blueprint.
The blueprint proposed that through five to ten years of efforts, Beijing will achieve outstanding performances in six aspects, including demonstration for urban digital intelligent transformation, hub for allocation of international data elements, incubation for emerging digital industries, innovation in digital technologies, digital governance solutions, and international cooperation and opening-up in digital economy.
To the end, Beijing will strengthen basic research, focus on developing key core technologies such as high-end chips and basic algorithms, and launch a batch of world-class pioneering technologies and products to promote the application of innovations in the entire development process of digital economy, said an official of Beijing Municipal Bureau of Economy and Information Technology.
Meanwhile, in the process of building the benchmark city, Beijing will cultivate six benchmark industries including the new generation of digital travel, new digital health services, and smart manufacturing. The city will also carry out benchmark projects such as high-level autonomous driving full-scenario operation demonstration project, cross-system digital medical demonstration centers, and digital community construction, according to the blueprint.
It is noted that the market size of Beijing's digital economy exceeded 1.44 trillion yuan in 2020, accounting for more than 40 percent of its GDP, laying a good foundation for building it a benchmark city. (Edited by Hu Pingchao, Wang Siyi, hupingchao@xinhua.org)