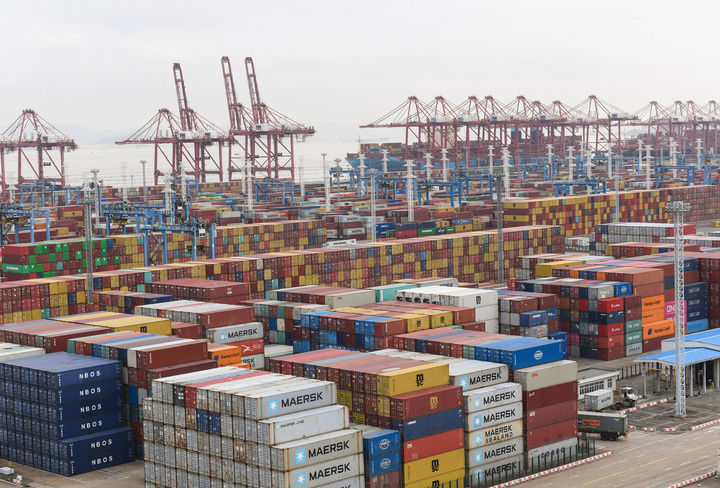 Aerial photo taken on March 3, 2021 shows containers piled up at the NingboZhoushan Portin Ningbo, east China's Zhejiang Province. (Xinhua/Weng Xinyang)
BEIJING, Aug. 2 (Xinhua) – East China's Zhejiang Pilot Free Trade Zone (FTZ) has achieved fruitful results in exploring institutional innovation and strengthening opening-up since its establishment in 2019, according to a press conference held by local authorities recently.
In terms of institutional innovation, Zhejiang FTZ has created 64 innovative cases in 2021, among which two achievements have been replicated and promoted nationwide for demonstration.
Zhejiang has been committed to building an interconnected innovation zone in the FTZ, which covers 1,178 square kilometers and includes 17 national economic and technological zones, 18 local economic development zones, eight comprehensive bonded zones, three high-tech parks, and one airport economic demonstration zone.
In December 2019, Zhejiang was approved to set up six interconnected innovation zones in Hangzhou, Ningbo, Wenzhou, Jiaxing, Jinhua, and Taizhou, and another four newly established innovation zones were launched in this June in cities including Huzhou, Shaoxing, Quzhou, and Lishui.
During the January to June period this year, the interconnected innovation zones of Zhejiang FTZ achieved a total import and export volume of 427.48 billion yuan, hiking 41.7 percent year on year, while the foreign investment in actual use by the innovation zones surged 57.5 percent year on year to 2.37 billion U.S. dollars.
In the same period, Zhejiang witnessed 24,800 newly registered enterprises settle in the FTZ, of which the number of new enterprises in Yiwu surged by 230 percent year on year to 12,000. Meanwhile, the actual use of foreign investment in the FTZ amounted to 1.21 billion U.S. dollars, up 88.4 percent year on year.
The booming development of Zhejiang FTZ was attributed to the flourishing logistic sector in the first half of the year, among which the FTZ achieved 7.7 billion of express deliveries, 530,000 tonnes of cargo throughput, and 16.13 million TEUs of container throughput.
As a hot land of the cross-border e-commerce industry, Zhejiang Province reported 91.89 billion yuan of cross-border e-commerce exports in the first six months of this year, up 48.2 percent year on year. At the same time, the China-Europe freight train service running between Madrid and the city of Yiwu has operated 1,201 train trips this year as of July 25.
The Zhejiang FTZ will continue to play an important role in China's reform and opening-up and continue to inject momentum in oil and gas, digital industry, and logistic hub construction, said the local authorities.
(Edited by Jiang Feifan with Xinhua Silk Road, 346129473@qq.com)