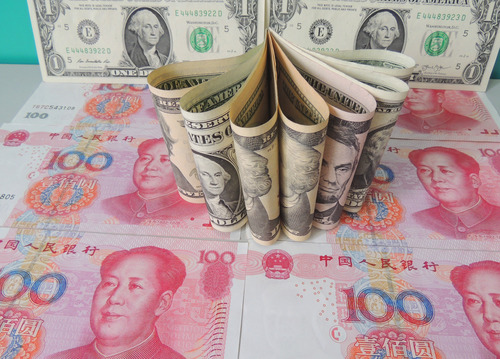 BEIJING, July 28 (Xinhua) -- Chinese currency Renminbi (RMB) or yuan weakened to a new low against the U.S. dollar (USD) since April on Tuesday, with the onshore exchange rate of yuan against the USD down more than 200 pips, reported Xinhua-run Xinhua Finance Wednesday.
After having been in range bound fluctuations for many days, the onshore Chinese yuan once eased to 6.5133 against the USD. In the offshore market, Chinese yuan also weakened on Tuesday.
Analysts attributed the volatility in RMB/USD exchange rate to the warming up risk aversion sentiment among market players.
Recently, there have been potential demands for the Chinese yuan to correct downwardly against the USD, and affected also by the external environment and slack stock market mood, the RMB/USD exchange rate has been fluctuating in a narrow range, noted Li Liuyang, chief foreign exchange analyst with financial market department of China Merchants Bank.
For a time, the global financial market has entered a risk aversion phase in which the USD benefited and strengthened on and on. Since late June, the U.S. Dollar Index kept edging up and once rose above 93, near the highs at the end of March and 10-year U.S. T-bond yields once fell below 1.2 percent.
In the meantime, Chinese yuan maintained its two-way fluctuations against the USD and stabilized. On July 23, the CFETS RMB Index, a weekly RMB index mainly referring to the China Foreign Exchange Trade System (CFETS) currency basket, rose to 98.7, a new high since late March, 2016.
Under such circumstances, industry experts believed that the consecutive rises in CFETS RMB Index are worthy of further attention as it pointed to appreciation of RMB driven not only by China's economic fundamentals but also other factors, hinting downward correction pressures for RMB.
As Liu held, the depreciation pressures on the Chinese currency may increase at the current time when global risk appetite fades and risky assets price decline.
However, the fluctuation pressures on the RMB/USD exchange rate are controllable thanks to exporters' robust demand for foreign exchange settlement, according to analysts with CIB Research.
On Wednesday, the central parity rate of Chinese yuan weakened 195 pips to 6.4929 against the U.S. dollar, according to the CFETS. (Edited by Duan Jing with Xinhua Silk Road, duanjing@xinhua.org)