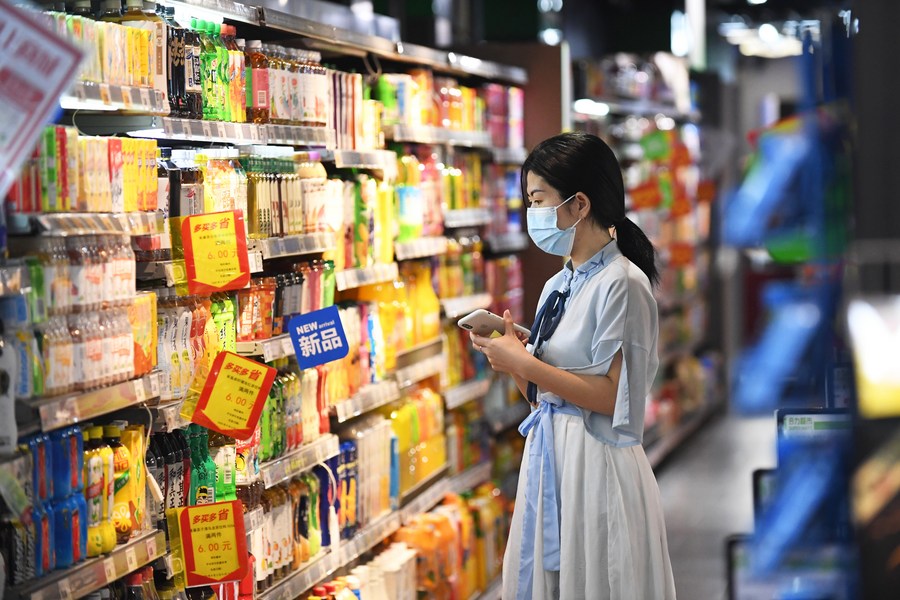 A customer selects drinks at a supermarket in Guiyang, southwest China's Guizhou Province, Sept. 16, 2020. (Photo by Zhao Song/Xinhua)
BEIJING, July 15 (Xinhua) -- China's consumption further recovered in the first half (H1) of this year as domestic demand firmed up, official data showed Thursday.
The country's retail sales of consumer goods totaled 21.2 trillion yuan (3.28 trillion U.S. dollars), up 23 percent year on year in H1, data from the National Bureau of Statistics showed.
The two-year average growth stood at 4.4 percent, 0.2 percentage points faster than that in the first quarter (Q1).
In the second quarter, retail sales went up 13.9 percent year on year, bringing the average growth for the past two years to 4.6 percent.
Retail sales in June were 12.1 percent higher from a year earlier, or 10 percent higher than that in June 2019.
The growth reversed from declines seen in H1 2020, when consumer spending was disrupted by the COVID-19 epidemic.
The catering sector, one of the worst affected by the epidemic, saw its combined revenue jump 48.6 percent from a year ago in H1. The revenue recovered to almost the same level in H1 2019.
Online retail sales jumped 23.2 percent year on year in H1, bringing the two-year average growth to 15 percent, faster than the pace seen in Q1.
China's gross domestic product expanded 12.7 percent year on year in H1 as the recovery continued to firm, Thursday's data showed.