Photo taken on Jan. 14, 2021 shows a night view of Lujiazui in Pudong of east China's Shanghai Municipality. (Xinhua/Fang Zhe)
BEIJING, July 11 (Xinhua) -- China's pilot free trade zones (FTZs) are to enjoy greater autonomy in making reforms, in light of their role in facilitating the country's institutional innovation over the past eight years, since the first one was established in Shanghai.
A key meeting on reforms has stressed efforts to deepen high-level institution-based opening-up, pledging reforms to build pilot FTZs into free trade parks with international influence and competitiveness.
The 20th meeting of the central committee for deepening overall reform on Friday reviewed and approved a series of documents, including measures on pushing innovation in trade and investment facilitation in the pilot FTZs.
China set up its first pilot FTZ in Shanghai in 2013. After five rounds of expansion, China now has 21 pilot FTZs, which represent the new high ground for the country's reform and opening-up.
From the start, China's pilot FTZs have been focusing on institutional innovation, with replicability as the basic requirement, along with proper risk control, said Chen Hong, deputy head of the department of pilot FTZ and Free Trade Port of the Ministry of Commerce (MOC).
China's pilot FTZs have demonstrated successful practice in 278 cases of innovation in institutional reform promoted at the national level, including fundamental reforms such as negative lists for foreign investment, according to the MOC.
Photo taken on Nov. 11, 2020 shows a view of the China (Shanghai) Pilot Free Trade Zone at Pudong New Area in Shanghai, east China. (Xinhua/Fang Zhe)
At the local level, about 1,400 institutional innovations from 18 pilot FTZs have been promoted within the provincial regions where they are located, the MOC said.
In the latest move, on July 6, the MOC unveiled 18 cases of innovation, known as the fourth batch of best-practice cases, for promotion at the national level, involving investment and trade facilitation, financial services for the real economy, state-owned enterprise reform and environmental protection.
The cases are highly innovative and have received positive responses from market players, reflecting the efforts made by local governments to implement the new development philosophy and explore new development patterns, Chen said.
For example, the Shanghai pilot FTZ has established the Pudong International Talent Hub as part of its efforts to build a talent center and provide talent support for high-quality development. By improving the efficiency of administrative examination and approval, it has attracted more than 400 start-up projects and served nearly 240,000 people at home and abroad.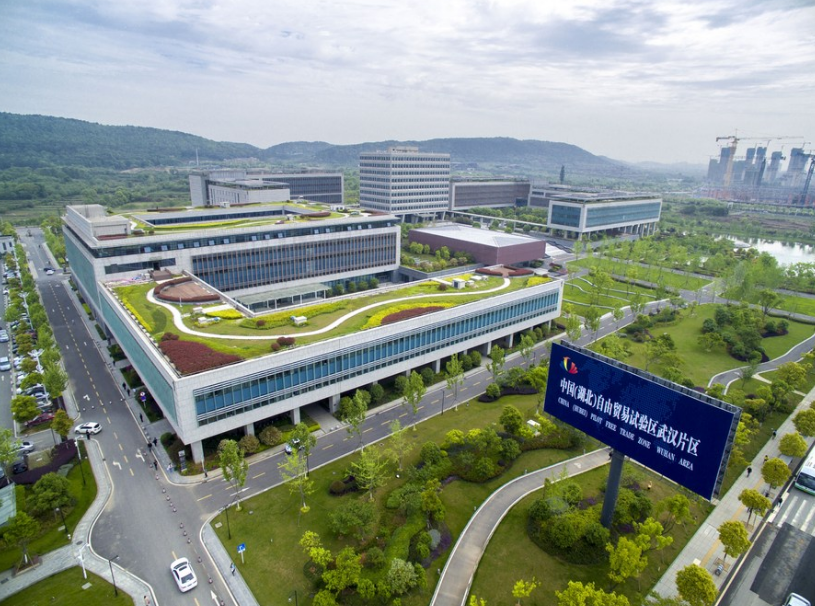 Aerial photo taken on April 19, 2017 shows the pilot free trade zone (FTZ) in Wuhan City, capital of central China's Hubei Province. (Xinhua/Xiong Qi)
In central China, the Wuhan Area of the Hubei pilot FTZ has explored the establishment of an evaluation mechanism for the effect of scientific and technological credit policies, to increase financial support for scientific and technological innovation. This initiative has strengthened Wuhan's financial resource allocation in the field of science and technology innovation.
The new cases have been designed to help promote high-quality development, serve country strategies, focus on people's concerns and stimulate the vitality of market players, Chen said.
The MOC attaches great importance to the replication and promotion of the achievements of institutional innovation and will facilitate training and exchanges, while letting more enterprises know about the achievements of reforms in the pilot FTZs, he said.
On Friday, the MOC released the 14th Five-Year Plan for Commerce Development, pledging more efforts in the pilot FTZs to explore opening-up with autonomy and at a higher level to stimulate endogenous motivation for high-quality development. ■