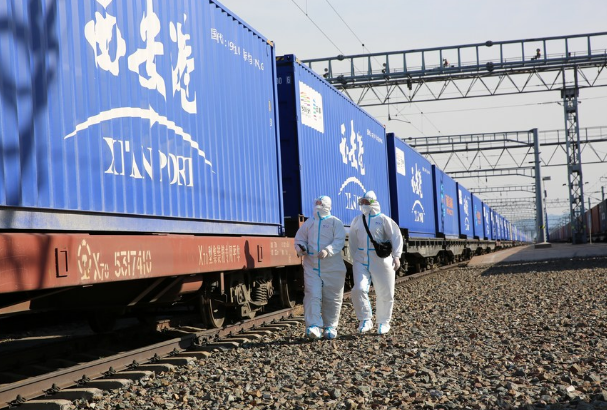 Photo taken on May 1, 2021 shows customs officials checking an outbound China-Europe freight train before its departure in Alataw Pass, northwest China's Xinjiang Uygur Autonomous Region. (Photo by Huang Biao/Xinhua)
BEIJING, July 7 (Xinhua) -- China-Europe freight train service registered a record 6,106 trips crossing Horgos and Alataw Pass, two major rail ports in northwest China's Xinjiang Uygur Autonomous Region, as of June 30, according to the data recently released by the Xinjiang railway authorities.
It is noted that in the first half of this year, Horgos port saw a total of 695 inbound China-Europe freight train trips, an increase of 195 percent year on year, and the number of the inbound trips crossing Alataw Pass was 1,333, up 55 percent year on year.
Meanwhile, the inbound trains delivered more abundant goods including automobiles, wood materials and ore concentrates, with the volume of the goods delivered increasing by more than 50 percent, said an official of China Railway Urumqi Group.
This year, the Alataw Pass has added nine new train routes for exports, including a route linking Wuyishan city in east China's Fujian Province with Duisburg, Germany, with a significant increase in exports of liquid crystal displays, laptop computers and auto parts, according to Guo San, director of the cargo handling workshop of Alataw Pass.
Since the outbreak of COVID-19, China-Europe freight trains have been of great importance in promoting international transport of supplies.
It is reported that in June, the number of the trips made by China-Europe freight trains crossing Horgos and Alataw Pass had increased from 15 to 18, on a daily basis, because of the peak season for transportation. (Edited by Hu Pingchao, Wang Siyi, hupingchao@xinhua.org)