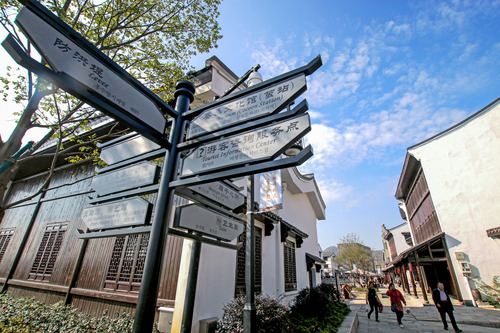 Photo taken on Nov. 23, 2019 shows the renovated Pingyao old street in Pingyao Town of Yuhang District in Hangzhou, east China's Zhejiang Province. (Xinhua/Xu Yu)
BEIJING, June 30 (Xinhua) -- East China's Zhejiang Province vows to strengthen intellectual property rights (IPR) protection to boost high-quality economic development in the 14th Five-Year Plan period (2021-2025), according to a development plan released by the province recently.
The development plan proposes to strengthen the IPR quantity, structure, application and image of Zhejiang Province, which covers 28 specific contents such as IPR creation and management.
Specifically, Zhejiang will concentrate on six related areas to the transformation and application of IPR, including major projects such as regional demonstration and innovation projects of IPR, layout of IPR of local competitive and leading industries.
In terms of the construction of IPR led by the digitalization reform, Zhejiang has launched the relevant online platform this year to provide integrated and convenient services for IPR protection.
The development plan further emphasizes the transformation and application of IPR and the strategic support for high-quality development in Zhejiang, according to the local authority.
(Edited by Jiang Feifan with Xinhua Silk Road, 346129473@qq.com)