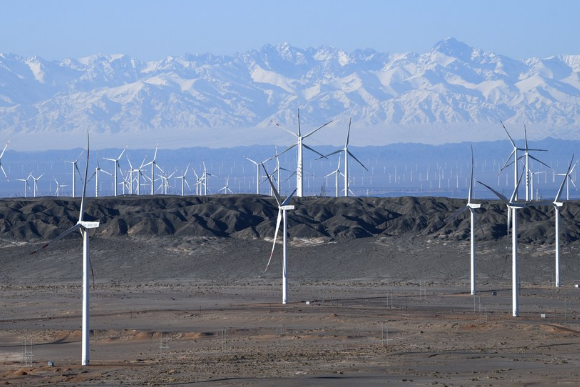 Photo taken on Oct. 23, 2019 shows the Nanfeng wind farm in Hami, northwest China's Xinjiang Uygur Autonomous Region. (Xinhua/Zhao Ge)
BEIJING, June 7 (Xinhua) -- Local authorities in China have successively rolled out their timetables for peaking carbon emissions as the country has previously announced to peak carbon dioxide emissions by 2030 and achieve carbon neutrality by 2060.
East China's Shanghai aims to achieve the goal of peaking its carbon emissions by 2025. Likewise, Shenzhen in south China also proposed to become the first city in the Pearl River Delta to peak carbon dioxide emissions by 2025.
Northwest China's Ningxia Hui Autonomous Region and southwest China's Sichuan Province target the objective of peaking carbon emissions by 2029 or before.
With the release of the timetables, the regions have focused on the energy transition and technological iteration to reduce carbon emissions and promote the industrial transformation and upgrading.
The carbon peak and carbon neutrality are a comprehensive balance of multiple targets and multiple constraints. It involves the all-round and in-depth changes in industrial structure, production methods, lifestyles, and spatial patterns. Therefore, the scientific top-level design should be followed to ensure orderly advancement of the work, according to Meng Gang, head of the Zhejiang Provincial Development and Reform Commission.
To achieve the targets, a batch of near-zero carbon and zero carbon demonstration projects will be carried out.
East China's Zhejiang Province proposed to start the construction of a zero-carbon system, and focus on promoting government agencies and other entities to carry out zero-carbon pilot demonstration programs.
Northeast China's Heilongjiang Province will make efforts to expand the carbon sink economy, and promote ecological industrialization and industrial ecologicalization.
Beijing, capital of China, has also made it clear that it will promote the development of forestry carbon sinks and strive to reduce carbon emissions by launching a new round of afforestation projects. (Edited by Hu Pingchao with Xinhua Silk Road, hupingchao@xinhua.org)