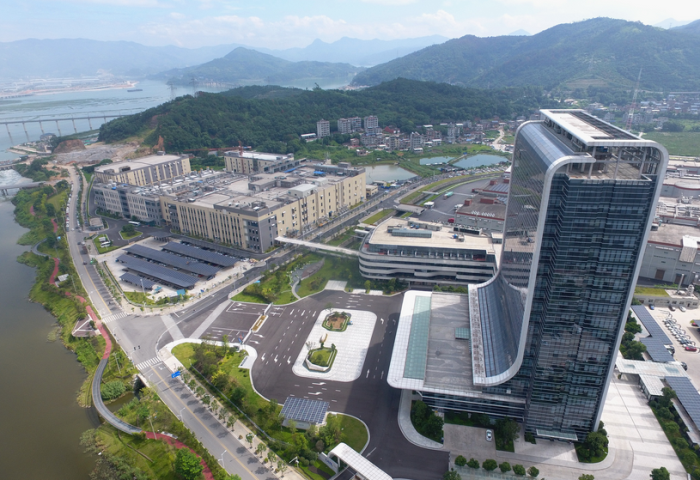 Photo taken on September 11, 2019 shows the engineering center of CATL. (Xinhua/Lin Shanchuan)
BEIJING, June 3 (Xinhua) -- China's battery giant Contemporary Amperex Technology Co., Ltd. (CATL, 300750.SZ) signed a 10-year strategic cooperation framework agreement with the renowned SUV and pickup manufacturer Great Wall Motor Company Limited (GWM, 601633.SH) on Wednesday in Baoding, north China's Hebei Province, reported Shanghai Securities News on Thursday.
The two sides will make use of their respective advantages to jointly promote technical innovations in new energy vehicle (NEV) and contribute to fulfilling China's goals of carbon emission peak and carbon neutrality, according to the cooperation agreement.
CATL and GWM started cooperation in 2016, when the two sides collaborated in technological research and development and supply of auto parts for brands such as Haval, WEY and ORA.
Apart from GWM, CATL has forged strategic partnership with a number of well-known auto companies, including the German commercial vehicle manufacturer Daimler Truck AG.
Domestically, CATL has joined hands with mainstream electric vehicle enterprises. Among the 6,800-odd NEV models included in a catalog released by China's Ministry of Industry and Information Technology in 2020, more than 3,400 were equipped with power batteries developed by CATL, making it become the largest power batter provider for the models.
CATL has been a leader in the field of power battery. According to statistics from SNE research, a market research institution based in the Republic of Korea (ROK), CATL ranked No.1 globally in 2020 in terms of quantity of supplied electric vehicle (EV) batteries in use. Its battery installation of EV standing at 34 GWh in 2020, accounting for 24.82 percent of the world's total of 137 GWh. In the first four months of this year, global EV battery consumption was 65.9 GWh, and CATL took up a market share of 32.5 percent, higher than the 21.5 percent of ROK's LG Chem, 14.7 percent of Japan's Panasonic and 6.9 percent of the Chinese peer BYD.
Boosted by the sound market performance, CATL has reported strong earnings growth. In the first quarter, the company pocketed revenue of 19.17 billion yuan, surging 112.24 percent year on year. During the period, its net profit attributable to shareholders soared 163.38 percent year on year to 1.95 billion yuan.
CATL is still vigorously expanding production capacity. Since the second half of 2020, it has built and expanded production bases in many places, with project investment totaling nearly 90 billion yuan and the planned capacity expansion of about 300 GWh. (Edited by Su Dan with Xinhua Silk Road, sudan@xinhua.org)