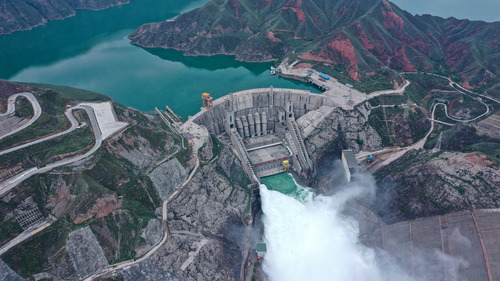 Aerial photo taken on July 9, 2020 shows water gushing out from the Lijiaxia HydropowerStation in northwest China's Qinghai Province. (Xinhua/Wu Gang)
BEIJING, May 21 (Xinhua) – China's electric power installed capacity increased 9.5 percent year on year to 2.23 billion kilowatts (kW) by the end of April this year, latest data showed by the National Energy Administration (NEA).
Along with China's efforts in peaking carbon dioxide emission and realizing carbon-neutral, the installed capacity of renewable energy such as photovoltaic (PV) and wind power has increased substantially in China.
Of the total, China's wind power installed capacity reached 290 million kW by the end of Apirl, up 34.6 percent from a year earlier, while solar power capacity hit 260 million killowtts, up 24.3 percent year on year.
In January-April, China's major power producers invested 111.6 billion yuan in power projects, up 23.8 percent year on year. Among them, the investment in hydropower projects surged 40.3 percent to 30.4 billion yuan, while a total of 46.8 billion yuan were invested in wind power projects, up 8 percent compared with the same period last year.
The power producers also invested heavily in solar energy and grid engineering, which rose 31.9 percent and 27.2 percent year on year, to 9.5 billion yuan and 85.2 billion yuan, respectively.
With the full recovery of China's economic activities on effective prevention and control over the COVID-19 epidemic, the country's power consumption, a key barometer of economic activity has shown significant growth in the first four months. The operating hours of power generating units in China averaged at 1,124 hours in January-April, up 107 hours from the same period last year.
(Edited by Jiang Feifan with Xinhua Silk Road, 346129473@qq.com)