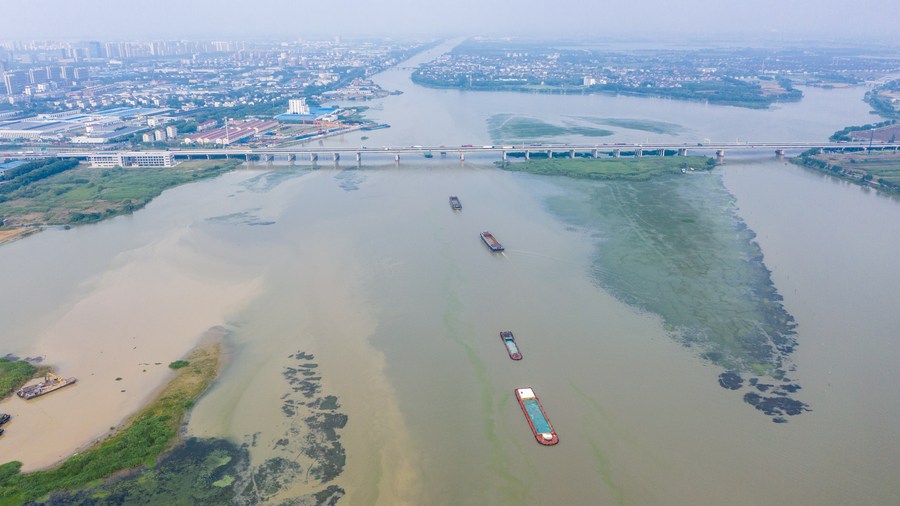 Aerial photo taken on May 28, 2020 shows a view of the Taipu River in Wujiang District of Suzhou, east China's Jiangsu Province. (Xinhua/Li Bo)
BEIJING, May 11 (Xinhua) -- The pilot free trade zones in east China's Shanghai Municipality and Jiangsu, Zhejiang and Anhui provinces jointly established an alliance on Monday to promote the high-quality and integrated development of the Yangtze River Delta region, reported Shanghai Securities News Tuesday.
At present, the pilot free trade zones in the Yangtze River Delta region cover a total area of 705.34 square kilometers, involving 11 cities, accounting for about 1/500 of the total area of the Yangtze River Delta. These zones bear the core economic functions of the region.
The market-oriented alliance will focus on trade and investment facilitation, financial innovation and other services based on the Yangtze River Delta capital market service base, the "single window"of international trade in the Yangtze River Delta, the professional trade service platform of the China (Shanghai) Pilot Free Trade Zone, and other functional platform resources.
The alliance also aims to promote higher-level institutional innovation and higher-quality innovative development in the region, create a better business environment, and further deepen the interconnected development of the four pilot free trade zones.
In terms of financial innovation, the alliance will make efforts to deepen the integration of financial elements and scientific and technological (sci-tech) innovation resources in the region, smooth the listing service chain for enterprises, and provide small- and medium-sized enterprises (SMEs) in the region with standardized and convenient financing services.
At the inauguration ceremony of the alliane held in Shanghai, Jiangsu, Zhejiang and Anhui provinces and Shanghai Municipality also jointly released ten major institutional innovation cases in the four pilot free trade zones, involving trade regulation, cross-Hong Kong cooperation, financial opening-up, sci-tech innovation, market regulation among other fields.
(Edited by Wang Yuhang, Gu Shanshan with Xinhua Silk Road, gushanshan.1987@163.com)