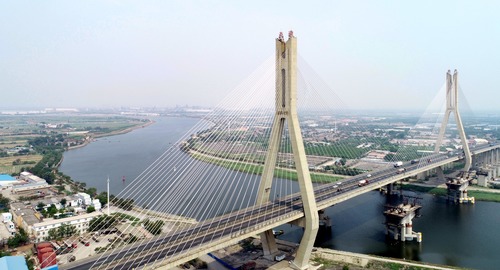 Aerial photo taken on June 26, 2019 shows the view of the BinhaiBridge on the Haihe River in north China's Tianjin. (Xinhua/Yue Yuewei)
BEIJING, April 26 (Xinhua) – North China's Tianjin Municipality on Tuesday unveiled an action plan on expanding the opening up of its producer services sector, laying out 116 specific measures covering 13 aspects, reported Chinanews.com Monday.
According to the plan, Tianjin will strive to form a new pattern of service industry development with a higher degree of opening-up in three years, and committed to building a pilot zone for the producer services in China.
Relying on Tianjin's national supercomputing center, it will build a medical big data storage center, a third-party medical image data hosting platform and other intelligent application projects in the city, and strengthen the application of block chain technology in the fields of intellectual property (IP) trading, finance, and trade.
According to the plan, Tianjin will speed up the construction of the national convention and exhibition center, while the exhibits will be allowed to conduct verification and cancellation at the special customs supervision zones after the exhibition.
Priorities will also be given to the trading of financial products. Tianjin will establish several trading centers including carbon inclusiveness trading, grain and oil commodity trading, oil and gas futures and spot trading, as well as metal products trading.
While streamlining the procedures of government affairs, Tianjin will also relax the employment qualifications for overseas professionals, allowing relevant talents engaged in areas such as architectural design and planning with overseas qualifications recognized by China to have jobs in Tianjin.
In addition, Tianjin will expand the opening up of the financial sector by carrying out the Qualified Foreign Limited Partner (QFLP) pilot program and setting up Renminbi overseas lending fund.
(Edited by Jiang Feifan with Xinhua Silk Road, 346129473@qq.com)