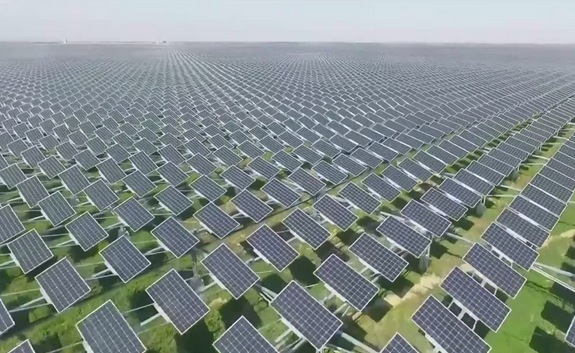 BEIJING, April 21 (Xinhua) -- The national comprehensive demonstration project of hydrogen production from water electrolysis using solar energy was put into operation on Tuesday in northwest China's Ningxia Hui Autonomous Region, according to a report by Chinanews.com.
Incorporating a photovoltaic power generation facility of 200,000 kilowatt and a unit for hydrogen generation via water electrolysis with a capacity of 20,000 standard cubic meters per hour, it is the world's largest water electrolysis hydrogen production project with the largest per-unit capacity.
The project produces green hydrogen and green oxygen by electrolyzing water using solar energy as the power source. The resulting hydrogen and oxygen then are used as raw material and fuel respectively to produce over a hundred of high-end chemical products such as polyethylene and polypropylene.
As operation commences, the project will reduce coal consumption by 254,000 tonnes and carbon dioxide emissions by 445,000 tonnes each year, according to Wang Jirong, an executive in charge of the hydrogen energy project of Ningxia Baofeng Energy Group Co., Ltd. (600989.SH), which is the constructor of the project. (Edited by Su Dan with Xinhua Silk Road, sudan@xinhua.org)