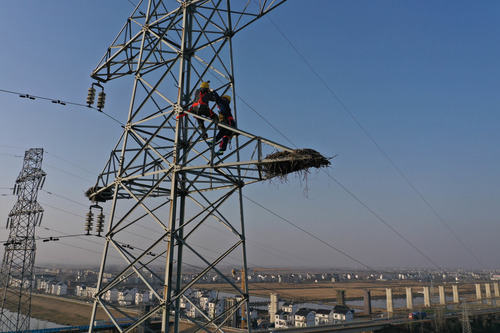 Aerial photo taken on Jan. 29, 2021 shows two workers installing a monitor camera over a nest of the oriental white stork built on an electric pylon in Raofeng Township in Poyang County of east China's Jiangxi Province. (Xinhua/Zhou Mi)
BEIJING, April 15 (Xinhua) -- The branches, provincial companies and directly affiliated units of the State Grid reported growth in new energy consumption, as well as fruitful results in the construction of energy storage facilities, according to State Grid on Wednesday.
On April 4, the new energy generation capacity of the State Grid Anhui Branch in east China exceeded 10 million kilowatts for the first time, while the wind and solar energy realized a full utilization rate of 100 percent.
In March alone, the electricity generated in northwest China's Qinghai Province hit 7.312 billion kWh, of which hydropower generated 2.715 billion kWh, accounting for 37.13 percent of the total, while the new energy generated 3.225 billion kWh, accounting for 44.11 percent.
In terms of regions, the new energy utilization rate in northwest China's regions reached 94.5 percent in the first quarter of the year, while the energy consumption in east China surged 50.54 percent year on year to 26.184 billion kWh, and the installed capacity of wind and solar energy stood at 62.235 million kWh, up 25.7 percent from the same period last year.
To fulfill China's commitment to coordinate the power grid sources, the branches of Gansu and Jilin both accelerated the construction of related major projects in the first quarter.

In terms of smart grid construction, in the first quarter of 2021, Shanghai started the upgrade and transformation of the 500 kV underground substations with the largest volume and highest capacity in the world.
(Edited by Jiang Feifan with Xinhua Silk Road, 346129473@qq.com)