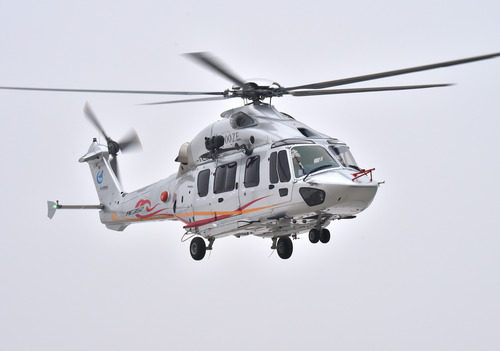 Photo taken on Dec. 20, 2016 shows the AC352 civil helicopter during its maiden flight in Harbin, northeast China's Heilongjiang Province. (Xinhua/Li He)
BEIJING, April 13 (Xinhua) -- Harbin, capital of northeast China's Heilongjiang Province has invested about 56.8 billion yuan to promote the construction of 62 major projects in the aerospace industry, reported local newspaper Monday.
Local authorities teamed up a special working group that responsible for the deployment of the city's aerospace industry work, to ease the burdens in the development of the industry.
Specifically, Harbin will focus on leading enterprises in the aerospace industry to gear up the development and manufacturing of multi-purpose helicopters and the construction of photovoltaic (PV) industrial park.
Harbin will also make efforts to boost the satellite industry chain, focusing on the introduction of chip manufacturers, terminal equipment manufacturers, electronic map, and product testing and other enterprises.
(Edited by Jiang Feifan with Xinhua Silk Road, 346129473@qq.com)