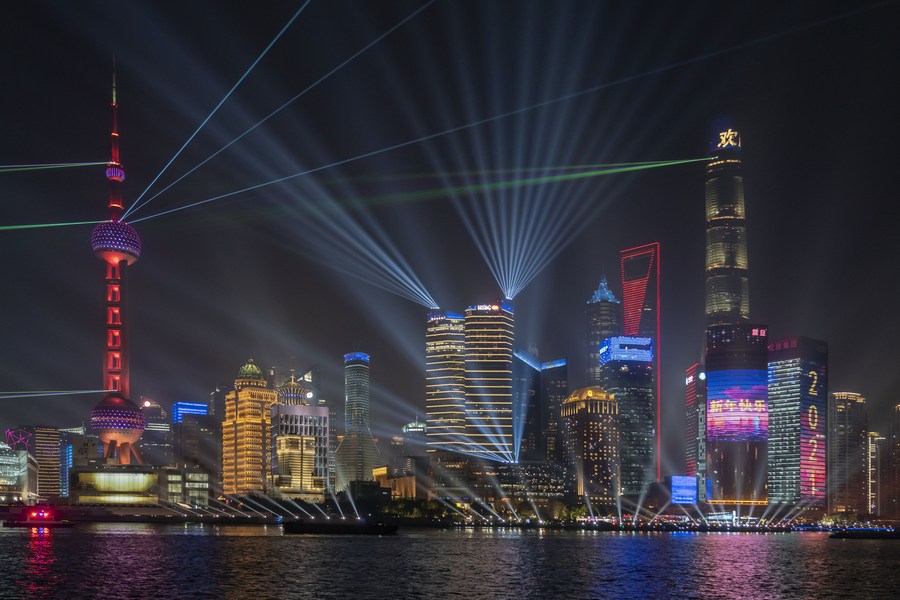 Photo taken on Jan. 2, 2021 shows the light show at the Lujiazui area in east China's Shanghai. (Xinhua/Wang Xiang)
BEIJING, March 19 (Xinhua) -- China is strengthening policy support for the development of green finance which plays a crucial role in achieving its peaking carbon emissions and carbon neutrality goals, reported Economic Information Daily Friday.
The Central Finance and Economics Committee of the Communist Party of China stressed to actively develop green finance at its ninth meeting held March 15.
In this year's government work report, implementing special financial policies to support green and low-carbon development, and setting up tools to support carbon emission reduction was also proposed.
The People's Bank of China (PBOC) has listed "implementing major decisions and deployment related to peaking carbon emissions and carbon neutrality, and improving green finance policy framework and incentive mechanism" as its third key task in 2021.
It's learned that next PBOC will gradually improve the incentive and restraint mechanism,and guide financial institutions to increase green asset allocation and strengthen environmental risk management through policies like green finance performance evaluation and interest subsidy, so as to enhance financial support for green and low carbon development, and promote the innovation of green financial products and the steady development of the market.
The China Banking and Insurance Regulatory Commission(CBIRC) also stated to actively develop green credit, green insurance, and green trusts.
According to Wang Yifeng, chief financial analyst with Everbright Securities Research Institute, the 1.8 trillion yuan of re-loan and re-discount China launched in 2020 may be partially diverted to the green finance field this year.
Related regulators will make efforts to improve the incentive mechanism for credit support in green finance, and climate investment and financing will become an increasingly important area in green finance for banks which will issue more green financial bonds this year, said Wang.
In recent years, China's green finance has achieved remarkable results, with product varieties on rise, involving green credit, green bonds, green insurance, green index, green funds, etc.
Data from PBOC showed that by the end of 2020, China had a green loan balance of nearly 12 trillion yuan, with stock ranking first in the world, and a green bond stock of 813.2 billion yuan, ranking second in the world.
Experts believe that more supporting policies will be rolled out at a faster speed to support the development of green finance.
(Edited by Gu Shanshan with Xinhua Silk Road, gushanshan.1987@163.com)